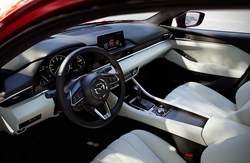 TRUSSVILLE, Ala. (PRWEB) December 21, 2018
The 2018 Mazda6 has garnered plenty of attention in recent memory, but Serra Mazda is receiving even more interest than usual right now. This increase in interest is largely due in part to the dealership's limited-time leasing opportunity for all 2018 Mazda6 Sport models. This promotion is currently taking place and expires on Jan. 3, 2019.
The entry-level Sport trim of the 2018 Mazda6 is home to a wide variety of high-tech standard features. Among them, one will find LED headlights, a rearview camera, an eight-inch touchscreen interface, Bluetooth® connectivity, push-button start, blind-spot monitoring and rear cross-traffic alert.
Not only is the Mazda6 Sport state-of-the-art on in the inside, but it's also a force to be reckoned with in terms of power and adrenaline. Under the hood of every 2018 Mazda6 Sport, the sedan's strength is summoned by an enchanting four-cylinder engine that produces 187 horsepower and 186 pound-feet of torque.
With its surplus of power as well as the aforementioned assortment of standard features, the 2018 Mazda6 Sport is a very well-rounded vehicle, especially for an entry-level model.
Now through Jan. 3, 2019, the 2018 Mazda6 Sport can be leased at Serra Mazda for just $159 per month for 36 months with only $3,447 due at signing. Naturally, not all car shoppers will qualify for this promotion. In order to participate, one must possess approved credit.
To learn more about the 2018 Mazda6 Sport or the credit qualifications necessary for taking advantage of this limited-time leasing event, serious inquiries may be directed to a member of the Serra Mazda sales team by calling 205-419-5556.
The dealership can be visited online at http://www.serramazda.com. Those who prefer face-to-face interactions are welcome to visit Serra Mazda in person at 1503 Gadsden Highway.