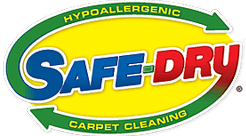 BIRMINGHAM, Ala. (PRWEB) February 27, 2020
Safe-Dry® Carpet Cleaning, a Birmingham carpet cleaning company, recently discussed the benefits of professional carpet cleaning. Safe-Dry® Carpet Cleaning is the premiere eco-friendly carpet cleaner in the Birmingham area, providing modernized and unique services. Safe-Dry® is rated five full stars by over 80 customer reviews, and strives to provide above satisfactory services.
Using the correct ingredients is crucial in a carpet or upholstery cleaning. Old-fashioned solutions, those that contain chemicals or are soap-based, prove to be harmful instead of helpful. They soak carpets and surfaces, promoting the buildup of mold, mildew, and other damaging bacteria. At Safe-Dry®, we pride ourselves with using an innovative all-natural solution. The eco-friendly mixture allows for our quick drying to finish within the hour, never leaving behind any harmful toxins. This unique solution is non-toxic to both humans and pets, posing as the best choice for any cleaning.
Carpet cleanings should take place every 12-18 months. Utilizing the help of Safe-Dry® Carpet Cleaning, you're able to exceed this measure. Our technicians are trained and equipped to clean a wide variety of furniture and upholstery. Whether it's the traditional carpeting in a home to car interiors, Safe-Dry® is up to the challenge. No stain or odor will be up to par. Our specialized solution targets those intense smells, such as pet odors. By penetrating the carpet down to the fibers, Safe-Dry® is able to attack the problem directly at the source.
If you are in need of an eco-friendly carpet cleaning, make sure to contact Safe-Dry® Carpet Cleaning. You can contact the leading environmentally friendly carpet cleaners today by calling (205)-619-6305, or by visiting their website at https://www.1800safedry.com/alabama/carpet-cleaning-birmingham-al/.