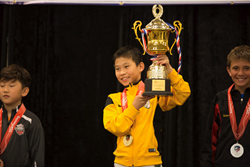 "Our athletes compete at a national level and our recreational fencers have fun, right here in Birmingham" said David Arias, BFC President.
Birmingham, AL (PRWEB) September 01, 2016
Birmingham Fencing Club fielded a strong group of fencers on the competitive circuit last season, capped by a gold medal win at the summer nationals during July. Andrew Chen placed first, as North American Cup Foil Champion (Gold Medal 2016 Nationals youth age 10). A wide range of fencers competed in tournaments all across the nation during the 2016/2017 season. Other BFC competitive fencers' highlights include: Allen Chen, North American Cup Foil Nationals Top 16 youth age 10; Ronald Yuan, Cadet World Cup Sabre Qualifier; Eric Wang, 6th Place Cadet Atlanta SYC; Noah Gentry, 6th Place Atlanta SYC youth age 14 Sabre; Adam Martin, Top 16 Sabre Atlanta SYC; Brian Chen, Top 16 Sabre Atlanta SYC; Jeremy Chu, 2nd Place Magic City youth age 14; Dylan Zhao, 5th Place Magic City youth age 12; Savitri Sasse Placed 4th in the Region & 3rd at the Ned Light RYC for youth girls age 10; Connor Williams, 5th Place Badawi Challenge youth age 10; Kuleen Sasse placed 1st in both the Ned Light and Atlanta youth age 12 groups; and Vivek Sasse finished the season 13th in the Region, out of a highly competitive pool of youth age 14 foil fencers.
Kicking off the new season, Birmingham Fencing Club hosts the Magic City RYC (Regional Youth Circuit) fencing tournament on Saturday, September 17th. Fencers will gather from across the region to compete in Foil, Epee and Sabre fencing events. Fencers may have their equipment checked on Friday evening, September 16, from 6:00 pm until 8:00 pm. The tournament will begin at 9:00 am Saturday, with registration opening at 7:00 am. While BFC does have a large number of competitive fencers who travel (think "travel ball for little league baseball"), many BFC members are recreational fencers who wanted to participate in an indoor sport for all ages, with lots of activity, mental challenge, and the fast-paced action of battle. Birmingham Fencing Club opens its doors to adventure once each month with a free fencing clinic that enables the public to take a tour of fencing by putting on some equipment, picking up a weapon, and trying it, themselves. Check their website for more information (http://www.fencingclub.org).