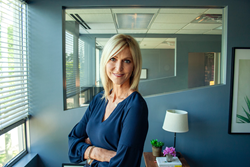 This is a once-in-a-lifetime project with tremendous international economic, political, social and cultural implications
BIRMINGHAM, Mich. (PRWEB) March 04, 2021
Bluestone Executive Communications, the Midwest's premier media training and presentation coaching firm, announced today it has been chosen as the preferred provider of media training and presentation skills training for Windsor-Detroit Bridge Authority (WDBA), the Canadian Crown corporation responsible for the delivery of the iconic Gordie Howe International Bridge, which will connect Detroit, Michigan, to Windsor, Ontario, with a 1.5-mile span across the Detroit River.
Funded through an international, public-private partnership, the $5.7 CDN billion undertaking is the largest and most ambitious infrastructure project along the United States-Canada border and involves a massive collaboration of government, business and community stakeholders in both nations.
"This is a once-in-a-lifetime project with tremendous international economic, political, social and cultural implications and Bluestone is honored to play a role in its success," said Bluestone founder and President, Christina McKenna. "With so many entities involved on both sides of the border, communication is critical and we're proud to support leaders in even more effectively communicating with the stakeholders and audiences who are invested in this legacy project."
Bluestone, which was selected in competitive process from a field of firms across Canada and the U.S., will provide media training and presentation skills training to WDBA leaders and spokespeople as they work to communicate the developments of the project to government, business, community, and media audiences and stakeholders.
"Among the many reasons we're excited to participate in this project, is that we'll be among its beneficiaries," said McKenna, a Detroit native. "With offices fewer than 20 miles from the Detroit construction site and clients on both sides of the border, we'll be frequent travelers of this landmark infrastructure from the day it opens to the public."
The Gordie Howe International Bridge project includes construction of the bridge, the Canadian port of entry, and the U.S. port of entry, as well as reconstruction of the Michigan interchange which will efficiently connect the span to interstates. Construction has been underway since 2018 and is expected to be completed in 2024.
Bluestone Executive Communications specializes in media training, presentation skills training and speaker coaching and has a client list that includes leaders at major companies across North America, including General Motors, Magna International, Masco, Lear Corporation, McCann WorldGroup, Little Caesars, Aptiv, La-Z-Boy, ZF, Cooper Standard, and dozens of other corporate, government and nonprofit organizations in the U.S. and Canada. The firm's headquarters and training studio are located at 1025 East Maple Road, Birmingham, MI 48009. For more information, visit bluestoneexec.com.
###