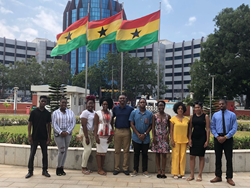 We're excited for our 2019 Birthright AFRICA Scholars to discover the resilience and brilliance of their cultural roots and legacy, knowing the transformative impact it will have on them into the future." -Walla Elsheikh, Executive Director of Birthright AFRICA
NEW YORK (PRWEB) March 18, 2019
Over the past two years, Birthright AFRICA has been committed to providing a free educational trip to Africa for every youth and young adult of African descent in the United States. Formed in 2015, by co-founders Walla Elsheikh and Diallo Shabazz, Birthright AFRICA is creating the next generation of global leaders and entrepreneurs.
Birthright AFRICA is commemorating 2019 as the "Year of Return" in Ghana, marking the 400 year anniversary of the first ship of enslaved Africans arriving in Jamestown, Virginia in 1619. This year, the organization will be sending 100 Scholars in collaboration with partners including the City University of New York. Birthright AFRICA Scholars will attend festivities celebrating their return to ancestral homelands, and meet with corporate leaders and entrepreneurs in Accra to learn about business innovation on the continent.
Walla Elsheikh, Executive Director of Birthright AFRICA says, "We're excited for our 2019 Birthright AFRICA Scholars to discover the resilience and brilliance of their cultural roots and legacy, knowing the transformative impact it will have on them into the future."
HBO also recently signed on as a corporate sponsor of Birthright AFRICA. Diallo Shabazz, Board Chair of Birthright AFRICA says, "As one of the world's top media companies, we are thrilled that HBO has endorsed our organization as a sponsor, as we embark on a 5-year scale strategy to provide the birthright opportunity for 5,000 Scholars in cities across the country."
Dennis Williams, HBO Senior Vice-President of Corporate Affairs and Corporate Social Responsibility says, "The entertainment industry is one of many sectors benefiting from a renewed and sometimes new interest in understanding personal history and lineage, especially within communities of color. As filmmakers, writers, and storytellers of all kinds have reconnected with their own histories, they've invited audiences to do the same, resulting in content that is richer, more inclusive, and bringing with it bigger and bigger audiences. Birthright AFRICA serves as an important pathway for self-discovery and understanding for a future generation of creatives and entrepreneurs who will continue to innovate through their narratives and having a meaningful social impact on our industry."
The Birthright AFRICA program continues to be a life-changing experience for Scholars who have received their birthright with 100% stating they want to visit an African nation on their own in the future. Additionally, 97% of participants indicate they now have more resources, clarity, and confidence in themselves to fulfill their career and life goals. 2018 Birthright AFRICA Scholar, Mikel Haye, from CUNY Queens College reflects on the transformative experience saying, "I have learned to love myself more as an African American and take pride in where I come from. I will implement what I have learned from the Birthright AFRICA program into my career goals by using the confidence to speak up, seek help, and aspire to do and say what I dream of doing."
For more information on Birthright AFRICA or to donate please visit http://www.birthrightafrica.org.
About Birthright AFRICA
Birthright AFRICA inspires youth and young adults of African descent ages 13 - 30 to explore their cultural roots and legacy of innovation within the United States and select nations in Africa as a birthright. Through travel and project-based learning in collaboration with our partners, we aim to instill pride, enhance self-efficacy, and spark the creativity of our Scholars to fulfill their leadership and entrepreneurial aspirations.
DONATION/PARTNER INQUIRIES:
Walla Elsheikh, Co-Founder, 646-261-4227, Walla (at) birthrightafrica (dot) org
MEDIA INQUIRIES:
Kosi Harris, Publicist, 917-749-1797, Media (at) birthrightafrica (dot) org