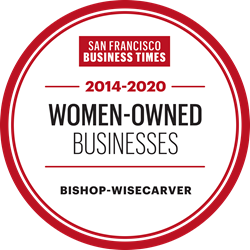 Being named to the Largest Women Owned Business List is always an honor that reflects the continued innovation and commitment of our entire team.
PITTSBURG, Calif. (PRWEB) February 03, 2021
Bishop-Wisecarver, a trusted industrial automation company that has offered proven motion solutions that are expertly designed and delivered to perform for 70 years, announced today it was named by San Francisco Business Times as one of the "Largest Women-Owned Businesses" in the Bay Area and the East Bay for the seventh consecutive year. Company President, Pamela Kan, assumed ownership of the company from her father and has successfully guided Bishop-Wisecarver for more than 20 years, weathering multiple economic downturns, while at the same time increasing the company's revenues and support to the community.
"Being named to the Largest Women Owned Business List is always an honor that reflects the continued innovation and commitment of our entire team," said Kan. "We have the unique ability to combine the strength of the company's 70 year history with exciting new opportunities for future growth and this culture defines our success. I'm proud to be a woman at the helm of this great company and I hope our success inspires other young girls and women to pursue their dreams in STEM-related fields."
To be considered for this recognition by the San Francisco Business Times, companies must have at least 51% female ownership and the ranking is based on revenues from 2019. Bishop-Wisecarver placed 29 for the Bay Area and 18 for the East Bay for the most current year.
Pamela Kan Bringing Female Leadership to Company, Industry & Government
As President and Owner, Kan has successfully expanded Bishop-Wisecarver's product offerings and services to fuel differentiation and growth, while simultaneously providing leadership in multiple industry organizations and government committees. She helped the company obtain certifications from WBENC (Women's Business Enterprise National Council) and the Bay Area Green Business Program and has received numerous awards for her commitment to actively support other women and girls involved in STEM, manufacturing and entrepreneurship. She is a member of C200, a non-profit whose members include more than 500 of the world's most successful female corporate executives working to advance future generations of women leaders. Most recently, she was selected as one of approximately 80 members from California's business, political and social sector to serve on the California Business & Jobs Recovery Task Force to help bring back the state's economy from the COVID-19 pandemic.
Seven Decades of Serving the Community & Customers
As a company formed in 1950 to manufacture truck accessories to a thriving business that today provides high-quality linear and rotary motion product lines, Bishop-Wisecarver's focus on motion, innovation and quality have remained constant. While Bishop-Wisecarver has always called the East Bay its home, its products can be found in diverse applications and industries around the world. From commercial to heavy-duty, linear to curvilinear, and multiple automation technologies, the company now offers one of the most expansive range of linear and rotary motion product lines that can withstand harsh and extreme environments. Bishop-Wisecarver's Signature Experience program has become synonymous with their commitment to 100% customer satisfaction.
About Bishop-Wisecarver
Bishop-Wisecarver's proven motion solutions are expertly designed and delivered to perform, enabling customers to solve their toughest mechatronics challenges. Leveraging 70 years of experience, the company has earned the reputation of providing unmatched quality, reliability, service and engineering support for every stage of a customer's design cycle. Combining long-lasting performance with ease of installation, Bishop-Wisecarver products offer the lowest cost of ownership for a wide variety of applications ranging from Aerospace to Medical to X-Y-Z systems and more. No matter the application or extreme environmental conditions, Bishop-Wisecarver designs innovative solutions from concept to completion, from prototype to production, on time and on budget. To learn more, please visit http://www.bwc.com.