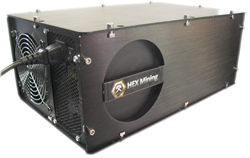 Leading the Industry in Terahash & Petahash Managed Mining Solutions
(PRWEB) May 23, 2014
HEX Mining (http://www.hexmining.com/) is quickly becoming known as the industry leader by their transparent nature. HEX Mining is a manufacturer and supplier of Bitcoin mining hardware and services. They have offices in the United States and China along with an organization of the top producers of ASIC Chips and Bitcoin Miner related hardware.
Not only is HEX Mining ASIC Hardware some of the most efficient hardware manufactured; Now, Hex is covering the power consumption costs for up to 1 year on all of their mining contracts. This is unheard of in the Bitcoin Mining Industry.
Below is some basic information on Bitcoin Mining.
Most of the mining programs out there are pretty complicated to setup and will frustrate your average user. Not only is it so technical that is over most peoples heads, the investment of hardware equipment can be very costly as well. One of the best ways to calculate your return on investment can be determined here.
Here are many of the benefits to HEX's Managed Mining Solutions to building your Bitcoin empire.
Objective:
Provide the most efficient and optimal co-located hosting opportunity for Bitcoin miner's hardware (http://www.hexmining.com/). Hex mining equipment are extremely valuable units of hardware, as they continuously generate Bitcoins 24 hours a day.
Co-Location:
The profitability of these miners is dependent on how efficiently they can be run. HEX offers the most competitive kWh rates (free for 1 year), in the nation, as well as provide adequate power and cooling. ASIC units produce large amounts of heat and require significant electricity. We also keep all units up to date with the latest firmware and hardware upgrades.
Security:
The HEX hosting facility is an interior unit located on secure commercial property. HEX also has independent security on site. HEX will have access to the location of the units. Our servers for e-mail and websites are not hosted at the same location.
Insurance:
Our hosting facility is fully insured with liability coverage and extended coverage to cover client's equipment hosted with us for the duration of the service
Unit Management:
We manage all units around the clock with the most competitive electricity costs (free for 1 year) in the world.
Experienced Staff:
As experienced miners, we will maximize the hash-rate of the units with proper power, cooling, and the latest firmware and hardware upgrades. Which will increase profitability for all parties.
Investment Security:
Our lead engineer has decades of experience in network and security QA to ensure the safety of a client's investment. Coins will be stored in our offline Cold Storage network as they are mined, and will only be held in a hot wallet for seconds before being paid out. Only staff will have access to the hosting facility premises where mining hardware is located.
Transparency:
HEX Mining provides customers with a secure User Account page to track the progress and payouts of their units. All accounts will be paid immediately with up-to-date performance reports.
Service:
We are working seven days a week to address any inquiries.
Bitcoin Earnings:
HEX Mining offers the best revenue splits in the industry for our services. There are no machines to worry about. First and foremost the initial investment will be paid when all the Bitcoins that the machines have produced has satisfied the clients' initial payment.
Our Bitcoin mining services (http://www.hexmining.com/) can help save money on shipping and setup costs, while also providing the security to keep Bitcoins and the location of mining servers confidential to protect the source of income.
Contact HEXMining today to learn more about our managed bitcoin mining services. There is simply no better way to start up a Bitcoin Mining business than our turn key full service platform. With HEXMining managed mining services, there is no need for a Bitcoin mining supercomputer, no need for high electricity bills and also no need for Bitcoin mining knowledge. You just need to know us.
About HEX Mining
Today HEX Mining has both Bitcoin hardware and managed Bitcoin hardware solutions. Products come in both TeraHash & PetaHash processing speeds. As the industry gets more competitive they will continue to secure the right relationships to keep in line with evolution of the cryptocurrency industry. Currently the demand is extremely intense and the pressure is on the manufacturers and distributors to deliver the goods. And that's exactly what HEX has set out to accomplish.
HEX Mining accepts payments in the form of checks, wire transfers, and of course Bitcoins.
HEX Mining is also proud to be an Escrow.com seller, which arms consumers with confidence during their transactions.
HEX Mining
webmaster(at)hexmining(dot)com
Phone: (877) 804-7671
Website: http://www.hexmining.com