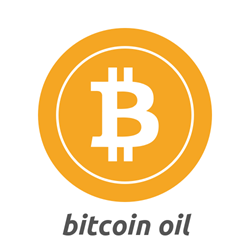 Bitcoin Oil is bringing crucial Bitcoin improvements to a flawed market in a timely manner. BTCO is pushing to make change in a more concise and diligent timeline than what lays ahead for Bitcoin currently.
HOUSTON, Texas (PRWEB) May 22, 2019
Bitcoin Oil today announces the launch of their Public Pre-Sale where they will offer the opportunity to join the revelation and claim a 45% percent bonus of coins to a limited number of qualified purchasers. The purchase price for Bitcoin Oil is at its initial rate of $1.00 USD per coin, payable in crypto. This Public Pre-Sale is not limited but will be ending on June 10th with the bonus decreasing every week since the opening of the Public Pre-Sale.
Bitcoin Oil presented the world's first initiative to transform Bitcoin's consensus algorithm from Proof-of-Work to Proof-of-Stake, and its plan to create an asset-enhanced, stability-enhanced cryptocurrency, which they believe will have far-reaching consequences for the future viability of Bitcoin and its potential for true mass adoption.
Now, BTCO is opening up their pre-sale and making those initiatives realities. Bitcoin Oil has decided to take a non traditional, yet very strategic, approach to beginning their crypto revolution. They will be conducting an ICO or IEO in order to raise enough capital quickly to in turn make the necessary changes that Bitcoin so desperately needs. Bitcoin Oil is an international organization with Swiss Holding managing all marketing and oversight of its technical blockchain activities, including but not limited to all fork-related preparations, while its U.S. subsidiary, Bitcoin Oil Inc., is located in Houston, Texas, and houses the operational team including its business development division.
"Bitcoin Oil is bringing crucial Bitcoin improvements to a flawed market in a timely manner. BTCO is pushing to make change in a more concise and diligent timeline than what lays ahead for Bitcoin currently. BTCO hopes to transform a 3-5 year timeline into a 3-5 month timeline in order to act upon the changes that are already so desperately needed. Now Bitcoin Oil is providing the public the opportunity to join our movement and invest in the first PoS-based Bitcoin solution," explained Hannah Paddock, Bitcoin Oil's Chief Marketing Officer (CMO). "Our cryptocurrency will be superior to Bitcoin by incorporating the entire Bitcoin DNA, but offering decisive additional benefits in the fields of Stability, Sustainability, Privacy, Smart Sidechains, and Scalability or "SSPSS", representing a dramatic set of Bitcoin improvements," Hannah Paddock continued.
Bitcoin Oil will accept various crypto and fiat currencies for payment during the presale, with the minimum commitment set at 50 BTCO. Examples of such currencies include but are not limited to: Ethereum, Bitcoin, Bitchoin Cash, Litecoin, USD, Euro and CHF. Initial buyers of BTCO Coins will also receive up to 45 percent in bonuses. The presale will end on June 10, 2019 at 11:00pm (GMT+02:00) 
In total, Bitcoin Oil aims to generate up to $102 million from its planned sale of Bitcoin Oil. The Private Pre-Sale has aleady concluded and was conducted in accordance with Regulation S of the Securities Act of 1933, as amended, and in the United States only to Private Purchsers who are "accredited investors" within the meaning of subparagraph (a) of Rule 501 in reliance on Regulation D of the Securities Act of 1933, as amended
Proceeds from the Private Pre-Sale are now being directed to the execution of the first developmental stages and other blockchain oriented expenses and projects, as well as operations of Bitcoin Oil. In particular, Bitcoin Oil intends to direct all funds to the further development of technical developer teams, legal structures, ICO requirements, staffing and payment of infrastructure and research for its blockchain technologies.
In Europe, The Swiss Holding will be represented by one of the largest and most reputable international securities law firms in Switzerland, where Bitcoin Oil is a corporate member of Switzerland's Crypto Valley (http://www.cryptovalley.swiss). When becoming part of the Crypto Valley Association ("CVA"), Bitcoin Oil acknowledged to adhere to the Core Values, the General Code of Conduct ("CoC") and the ICO Code of Conduct ("DECoC") and that it will conduct its business and its ICO consistent with the values and principles outlined therein (http://www.cryptovalley.swiss/codeofconduct). The ICO Code of Conducts subjects all members to standards ensuring that the launch and operation of decentralized ecosystems and ICOs comply with the highest level of ledger enforceability, quality of protocols and applications, and compliance to relevant financial market regulations.
Furthermore, Bitcoin Oil has retained U.S. law firm Gutnicki, LLP (http://www.gutnicki.com), as Bitcoin Oil's special United States counsel. Gutnicki will be overseeing Bitcoin Oil's private and public pre-sales and ICO in compliance with U.S. securities laws. Bitcoin Oil's broader legal team has created all relevant sale documents in accordance with U.S. and other securities laws, involving various lawyers with experiences representing ICOs and digital coin sellers.
The Pre-Sale for Bitcoin Oil's ICO is now open at a cost $1.00 USD per coin and payable in crypto. Participants who join the revolution will benefit by receiving up to a 45% bonus. The Analysts are predicting this to be an ICO for the record books.
To learn more about Bitcoin Oil or to get involved in the ICO Pre-Sale, visit the official website at https://www.bitcoinoil.com
About Bitcoin Oil
Bitcoin Oil is a developer of innovative blockchain and ledger technology aimed at the improvement of Bitcoin. Bitcoin Oil is the creator of Bitcoin Oil, a new cryptocurrency based on the Bitcoin network with optimally improved ledger through the use of its "SSPSS" improvement strategy. The centerpiece of Bitcoin Oil and its "Optimally Improved Ledger" (OIL) will be the highly innovative "SSPSS" strategy focusing on the development and implementation of essential Bitcoin improvements in the fields of Stability, Sustainability, Privacy, Smart Sidechains, and Scalability, or "SSPSS", including but not limited to key new Bitcoin blockchain features such as (i.) minimizing Bitcoin's volatility (i.e. by connecting it with stable off-chain values), (ii.) drastically reducing Bitcoin's insane energy consumption (i.e. by altering the consensus protocol to PoS), (iii.) implementing true privacy features (i.e. by enabling confidential transactions), (iv.) empowering Bitcoin based ICOs and STOs (e.g. by employing full smart contract functionalities), and last but not least (v.) developing cutting-edge scalability solutions (i.e. by complete integration of layer 2 protocols and offline transactions). To learn more about Bitcoin Oil, please review our next press releases as well as our forthcoming white paper, or if you are interested in purchasing Bitcoin Oil, please contact us at info@bitcoinoil.com or call us at +1-8777-BITCOINOIL.
Disclaimer
This press release shall not constitute an offer to sell or the solicitation of an offer to buy any of the coins or securities described herein, nor shall there be any sale of these coins or securities in any state or jurisdiction in which such offer, solicitation or sale would be unlawful prior to registration or qualification under the securities laws of any such state or jurisdiction.
This press release contains information about pending transactions, and there can be no assurance that any of these transactions will be completed in accordance with the terms described in this press release or at all.
This press release contains statements that are forward looking (such as when Bitcoin Oil describes what it "plans," "believes," "intends," "seeks," "aims," or "anticipates" will occur, what "will," "potentially," or "could" happen, and other similar statements or the negative of such terms or statements), which may not be correct, even though Bitcoin Oil believes that they are reasonable at the time of this press release. Bitcoin Oil does not guarantee that such forward-looking statements will happen as described or that they will happen at all. Further information regarding risks and uncertainties that could cause actual results to differ materially from those in the forward looking statement is included in the forthcoming white paper. Bitcoin Oil undertakes no obligation to update any forward-looking statement to reflect events or circumstances after the date on which the statement is made.
Media Contact:
Attn: Media Relations
Ms. Hannah Paddock (CMO)
Email: media@bitcoinoil.com
Phone: +1-8777-BITCOINOIL
Information Contact:
Attn: ICO Information
Ms. Hannah Paddock (CMO)
Email: info@bitcinoil.com
Phone: +1-8777-BITCOINOIL
Online Contacts: