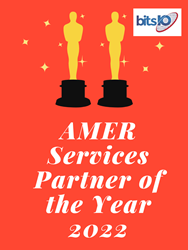 SPRINGFIELD, Ill. (PRWEB) June 17, 2022
bitsIO, Inc., announced today it has received the 2022 AMER Services Partner of the Year for exceptional performance and commitment to Splunk's Partnerverse. The 2022 AMER Services Partner of the Year Award recognizes an AMER Splunk partner that is actively engaged in services implementations, in addition to having a strong commitment to training and certification of their organization. For more information on Splunk's Partnerverse, visit the Splunk website.
"We are honored to receive this award for a second time. This highlights bitsIO's dedication to customer success and excellence in services delivery. We thank Splunk for the trust and opportunity to be a key partner in delivering Splunk professional services and Cloud Migrations," said Suman Gajavelly, CTO & Co-Founder of bitsIO.
"bitsIO's global presence in six countries allows us to serve Splunk customers in multiple regions. Our global team brings diversity and local expertise which leads to building efficient solutions for our customers,"said Kalpana Krishnamurthi, CEO & Co-Founder of bitsIO.
"Congratulations to bitsIO, Inc. for being named the 2022 AMER Services Partner of the Year," said Bill Hustad, Vice President of Alliances and Channel Ecosystems, Splunk. "The 2022 Splunk Global Partner Awards recognize outstanding partners like bitsIO that drive positive business outcomes, as well as help our joint customers leverage Splunk to solve their challenges. Additionally, bitsIO works in collaboration with Splunk and shares our customer-first mentality."
The Splunk Global Partner Awards recognize partners of the Splunk ecosystem for industry-leading business practices and dedication to constant collaboration. All award recipients were selected by a group of the Splunk executives, theater leaders and the global partner organization.
About bitsIO, Inc.
Award Winning Splunk Partner in 2020 & 2022, bitsIO's expert consultants and services are at your disposal 24/7/365 with offices in US, UK, India, Costa Rica, Australia & Canada. We offer Professional Services (PS), Cloud Migrations, Managed Services (MSP), Managed Security Services (MSSP) and a visionary Global Academy for Splunk (GAS).
Media Contact Information:
Suman Gajavelly
920 S Spring Street, Suite 920, Springfield, IL 62704
sgajavelly@bitsioinc.com