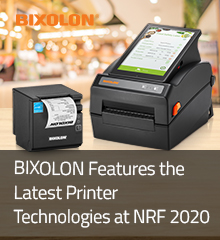 NRF Retail's Big Show is one of the most important industry events of the year for BIXOLON. We look forward to attending and engaging with other leaders in the Retail and Hospitality industry
SONGNAM-SI, South Korea (PRWEB) January 11, 2020
BIXOLON America, Inc., a leading global Mobile, Label and POS printer manufacturer, will showcase its latest and most advanced printer technology at the National Retail Federation (NRF) Retail's BIG Show, January 12-14 in New York City.
Exclusive Look at BIXOLON's Latest:
Retailers visiting BIXOLON at the NRF Show (Booth #3359) will see the latest printing solutions in action and get a sneak peek at innovative mobile products coming in 2020.
BIXOLON will showcase its NEW XQ-840 8-inch Android tablet mounted 4-inch (118mm) desktop label printer featuring space-saving design. This two-in-one printer supports up to 6 ips (152 mm/sec) printing speed and 2 USB Host Ports, Ethernet, Dual-band WLAN(2.4G and 5G) and Dual Bluetooth(V4.2 Classic/LE) connectivity. It is pre-loaded with powerful software including BIXOLON Food Safety Label, Label Artist™ Mobile(Android), BIXOLON Utility and BIXOLON Downloader. The XQ-840 also supports XCM™, an agent app to connect XPM server™, for web-based printer profile management.
Inspiring retailers with linerless and label printing, BIXOLON will be demonstrating the XQ-840 and SLP-DX220 for MRD (Make, Ready, Discard) applications, the SRP-S300 linerless label printer ideal for online ordering applications. Alongside, XT5-40 for a stand-alone solution, SPP-L3000 for mobile shipping and delivery label solutions and the SLP-TX400R 4-inch barcode label printer with RFID data encoding functions.
BIXOLON will also be providing a first look at a number of its future 2020 product launches, including the XT2-40 entry-level 4-inch industrial label printer, XD5-40t and XD3-40t thermal transfer desktop label printers. BIXOLON XL5-40 mid-end 4-inch linerless label printer and XM7-40 premium 4-inch mobile label printer.
"NRF Retail's Big Show is one of the most important industry events of the year for BIXOLON. We look forward to attending and engaging with other leaders in the Retail and Hospitality industry," states Paul Kim, Managing Director of BIXOLON America. "We will be inspiring visitors of NRF with the latest food prep and online ordering applications, alongside BIXOLON's linerless labelling cannabis printing solutions with Taken Sensor™ technology."
Technology Partners
BIXOLON will host complementary hardware and software technology partners, including ADC, BizTracker, C&K Systems, EtiFlex, ICONEX, IDP showcasing card printing solutions, Mariner Business Solutions introducing Cannabis POS solutions, Smart4 and The Factory HKA demonstrating Fiscal solutions. Every partner will be showcasing a unique application relating to restaurant and label business solutions.
For more information visit http://www.BixolonUSA.com, subscribe to http://blog.bixolon.com or speak to your local BIXOLON sales representative.
About BIXOLON
BIXOLON is a leading global manufacturer of innovative, advanced printing technologies including point-of-sale receipt, label, Auto ID and mobile printers for a wide range of environments. Millions of BIXOLON printers are used today in retail, hospitality, healthcare, banking, ticketing, post/parcel, warehousing and other transaction-intensive industries. In 2019, for the sixth consecutive year BIXOLON was named global mobile receipt printer market leader by Japanese research company Chunichisha.