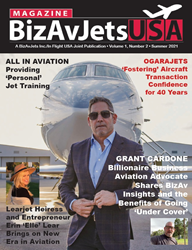 We are very excited every issue of our publication will be on the Blockchain as an NFT.
LAS VEGAS (PRWEB) October 08, 2021
BizAvJets USA Magazine is pleased to announce a partnership with PowerFan.io bringing exclusive access to digital assets, NFTs, and new cryptocurrency opportunities to the business aviation community. NFTs (non-fungible tokens) are unique digital assets that signify ownership and exist independent of any central issuing authority like a bank. NFTs and blockchain technology underpin multi-billion dollar businesses.
BizAvJets USA Magazine Co-Owner Eli Stepp mentioned "We are now in the process of rolling out our own exclusive BizAvJets USA Magazine NFT's. Our NFT's will be available October 12, 2021 in time for day one the National Business Aviation Association Conference." Co-Owner Annamarie Buonocore also commented "We are very excited every issue of our publication will be on the Blockchain as an NFT."
Eli Stepp explained "BizAvJets USA Magazine NFTs will allow us to evolve how we serve the aviation community and provide new ways of delivering value. In development plans with PowerFan.io we are considering several options such as access to exclusive events for NFT holders, flight credits for private air travel, and special bonuses and/or incentives for our future premier partners." PowerFan.io CEO Albert An added "We are excited to work with BizAvJets USA Magazine. Our partnership creates new opportunities and revenue streams for both companies."
BizAvJets USA and PowerFan.io worked together to develop the following limited NFT bundle as an initial offering which includes the following:

All Issues (3) of BizAvJets USA Magazine Instantly
1/4 Page Advertising Sponsorship Credit in BizAvJets Magazine
Access to Exclusive BizAvJets USA Magazine Community to network with others in the private aviation industry
Premier access to future NFT releases and associated bonuses including flight credits, magazine features and in-person events
NFT Bundle cost is set at $250 per NFT bundle. Limited Edition of 100 NFTs.
BizAvJets USA Magazine NFT Bundle can be purchased with Ethereum Cryptocurrency starting October 12, 2021. Credit card purchase capability will be available in coming weeks.
Visit http://www.bajusanft.com for more information and http://www.PowerFan.io for more information regarding Blockchain NFTs.
About BizAvJets USA Magazine
BizAvJets USA Magazine is a joint effort of "In Flight USA" and "BizAvJets, Inc." The two companies formed a partnership in November 2020 to produce the new digital and print publication, which focuses on business jets and business-aviation related activities. Entities or individuals who desire to submit content for article consideration should contact Annamarie Buonocore at +1 (650) 504-8549 email annamarie@bizavjetsusa.com, or contact company via http://www.bizavjetsusa.com. Advertisers are welcome to contact BizAvJets USA Business Development Representative Paul T. Glessner at +1 (562) 714-6686. Individuals or entities interested in further Magazine NFT information, should contact Eli Stepp at +1 (702) 465-2027 or eli@bizavjetsusa.com.