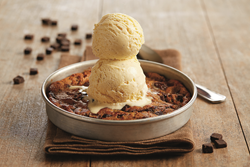 HUNTINGTON BEACH, Calif. (PRWEB) December 14, 2020
In the spirit of evoking joy and gratitude this holiday season, BJ's Restaurant & Brewhouse® (NASDAQ: BJRI) is launching 12 Days of Pizookie® Party giveaways on social media for frontline workers who have tirelessly served their communities this year. During December, BJ's will select 12 winners to receive a BJ's Pizookie® Party starring none other than the world-famous, mouthwatering Pizookie® dessert to share with their co-workers.
Beginning Monday, December 14, 2020, BJ's invites healthcare workers, first responders, and teachers who could use a sweet treat this holiday season for themselves and their team members to enter via BJ's Facebook, Instagram, or Twitter channels for a chance to win a BJ's Pizookie® Party. Starting December 14, one winner will be chosen at random each day for 12 days from that day's entrants. Each winner will receive a $250 BJ's Pizookie® Party for up to 30 people.
"Our frontline workers have sacrificed so much in 2020, and this is our little way to give back this holiday season," said Kevin Mayer, Chief Marketing Officer of BJ's Restaurants, Inc. "By focusing on those on the front lines, we can help recognize and celebrate local heroes for serving their communities during this challenging and unprecedented time."
BJ's Restaurant & Brewhouse® is legendary for its world-famous Pizookie®. This beloved fan favorite is an ooey-gooey hot-out-of-the-oven cookie served in a deep-dish pan and topped with rich and creamy ice cream. It's a one-of-a-kind, never duplicated, but often imitated, obsession. With flavors such as Chocolate Chunk, Monkey Bread, Salted Caramel, and Hot Fudge Brownie, there is a Pizookie® to satisfy every craving.
How to enter BJ's Restaurant & Brewhouse's 12 Days of Pizookie Party Giveaway:
BJ's Restaurant & Brewhouse's 12 Days of Pizookie Party Giveaway will run from December 14, 2020, through December 25, 2020. If you are a teacher, healthcare worker, or first responder, visit any of BJ's social channels here to enter for a chance to win a BJ's Pizookie Party:

To view the terms and conditions for BJ's Restaurant & Brewhouse's 12 Days of Pizookie Party Giveaway visit: https://www.bjsrestaurants.com/pizookie-parties-terms-and-conditions.
About BJ's Restaurants, Inc.
BJ's Restaurants, Inc. ("BJ's") is a national brand with brewhouse roots and a menu where craft matters. BJ's broad menu has something for everyone: slow-roasted entrees, like prime rib, BJ's EnLIGHTened Entrees® including Cherry Chipotle Glazed Salmon, signature deep dish pizza and the often imitated, but never replicated world-famous Pizookie® dessert. BJ's has been a pioneer in the craft brewing world since 1996 and takes pride in serving BJ's award-winning proprietary handcrafted beers, brewed at its brewing operations in five states and by independent third party craft brewers. The BJ's experience offers high-quality ingredients, bold flavors, moderate prices, sincere service and a cool, contemporary atmosphere. Founded in 1978, BJ's owns and operates 210 casual dining restaurants in 29 states: Alabama, Arizona, Arkansas, California, Colorado, Connecticut, Florida, Indiana, Kansas, Kentucky, Louisiana, Maryland, Massachusetts, Michigan, Nevada, New Jersey, New Mexico, New York, North Carolina, Ohio, Oklahoma, Oregon, Pennsylvania, Rhode Island, South Carolina, Tennessee, Texas, Virginia and Washington. All restaurants offer dine-in, take-out, delivery and large party catering. Due to the COVID- 19 pandemic, one of our restaurants remains temporarily closed, and dine-in service is currently limited or not available and hours are limited in our remaining 209 restaurants. For more BJ's information, visit http://www.bjsrestaurants.com.
Media Contacts:
BJ's Restaurant & Brewhouse
Megan Paul, 714-500-2736
mpaul@bjsrestaurants.com
Murphy O'Brien, Inc.
bjsteam@murphyobrien.com