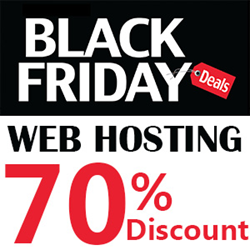 The web hosting deals for this Friday are worth trying because they include not only the best discounts, but also valuable extras .
San Francisco, CA (PRWEB) November 28, 2014
The web hosting review site HostingReview360 today announced some attractive web hosting Black Friday deals that offer up to 70% discount during the shopping day. Shoppers can sign up with those reliable web hosts with the cheapest price in a year.
The hosting companies listed below are providing special deals for shared hosting, VPS hosting and Windows hosting. In addition to setting the hosting charges at the lowest level, the web hosts also offer some beneficial extras to arouse the interests of customers.
1) A2Hosting – 50% Discount
A2Hosting is an award-winning web hosting provider that offers a 50% discount for webmasters who sign up any hosting package via this special promotional link. With this deal, the hosting fee is as low as $3.49/mo.
Besides the low rate, shoppers can also get $20 Bidvertiser ad credits, $25 Bing/Yahoo ad credits, and 6Scan Vulnerability Scan service. Moreover, CloudFlare CDN, server rewind backup, A2 Site Builder, shared SSL certificate and advanced cPanel are also available, all of which are given without charges.
2) InMotion Hosting – 50% Discount
When it comes to the special deals on this Friday, InMotion Hosting is far better than most competitors. The company allows people to purchase the business-class web hosting at $3.49/mo only, 50% off the initial price. This budget-friendly rate can be acquired through this promotion link. Along with the link are also daily backups and over $275 advertising credits.
Besides shared hosting, the 50% discount is also applicable to the company's VPS hosting plans which are now priced from $14.99/mo. Some extras included in InMotion VPS hosting packages are SSDs that are up to 20 times faster than the common spinning drives, backup service that is performed every 24-36 hours, full cPanel license that is worth $425/yr, and up to 3 dedicated IP addresses.
3) Host4ASP.NET – 70% Discount
Host4ASP.NET is a well-known Windows hosting provider offering affordable and reliable hosting solutions at the price of $2.09/mo on this Friday. This cheap rate is given through this exclusive promotional link which comes with a 70% discount.
Being affordable at $2.09/mo only, Host4ASP.NET hosting service also includes the latest .NET technologies, user-friendly control panel, Solid State Drives with RAID 5, website backup on a daily basis, automatic Cisco firewall, and DDoS attack response. Besides, people can get a chance for trial with the 30-day money-back guarantee.
For details about the special deals from other companies such as BlueHost, HostGator and Arvixe, visit https://hostingreview360.com/friday-web-hosting-deals-2014-nov-28/.
About HostingReview360
HostingReview360 is a trust-worthy hosting review website rating web hosts and offering related tutorials. Founded by an experienced web developer and maintained by a group of experts, the website presents information objectively.