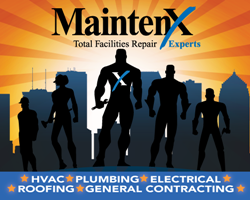 TAMPA, Fla. (PRWEB) November 22, 2019
The turkey is put away, the dishes are cleared and the pumpkin pie crumbs have been swept off the table. For many Americans, these signs aren't just that Thanksgiving Day is over, but that it's time to celebrate one of the busiest shopping days of the year. In 2018, Black Friday brought nearly 90 million shoppers out to brave the crowds, according to industry estimates. MaintenX International, one of the nations largest providers of self-performing facility maintenance, knows what it takes to keep a business in top shape and ready to handle an influx of customers.
"Black Friday is the start of the holiday season. It's festive and fun, but businesses know tensions can run high as customers try to score the best deals while businesses manage the larger-than-normal crowds," said Bill Schaphorst, MaintenX's VP of Business Development. "We love helping our clients create custom preventative maintenance plans to address the areas that can create a poor experience for the customer like like parking, plumbing and power."
MaintenX takes pride in their ability to customize maintenance for each client. For example, a stand-alone facility may benefit greatly from a parking lot refresh. Fresh sealant, line paint and smart space configuration can help a store-front look inviting and increase safety as customers move from their car to the store, especially for customers using a wheelchair or pushing a stroller or cart.
For a larger department store, parking lots may be of less concern, but a check of bathroom plumbing can be just the thing to keep customers happy, while updating fixtures and appliances can take a restroom from drab to fab. These small touches can make a difference in where customers choose to spend their time and money, especially on peak shopping days like Black Friday.
Large or small, all facilities want to provide a comfortable experience for staff and customers alike. That's why clients trust MaintenX's skilled team of technicians to provide preventative maintenance services to their HVAC systems. Something as small as a clogged drain line can cause an entire HVAC system to shut down. Minor fixes to drainage systems, filters, and vents can keep temperatures from becoming uncomfortable and reduce the likelihood of major issues that will negatively impact a business's bottom line.
In 2018, holiday shoppers spent more than $700 billion in stores and online. At over $1,000 per average shopper, and with rising popularity for "in-store pickup" options for online orders, it's easy to see why it is very important to create a positive physical holiday shopping experience for each customer.
Investing in preventative maintenance is wise during the holidays – but can save businesses money at any time of year. These easy updates and adjustments allow businesses to budget costs, and keeps emergency maintenance, expensive fixes or costly closures significantly reduced. With industry experts expecting a bigger-than-ever spending year in 2019, facility managers are wise to prepare their business for success and invest in preventative maintenance before the holiday crowds arrive.
For more than 40 years, businesses across the country have trusted MaintenX to perform the preventative and reactive maintenance services that keep their facilities in top shape. To learn more about MaintenX's commitment to providing each client with superior service and customer satisfaction, visit http://www.maintenx.com.
ABOUT MAINTENX INTERNATIONAL:
MaintenX International is a fully-licensed, facilities repair company. They are one of the largest national self-performing facility maintenance and repair companies in the U.S. MaintenX has created a network of knowledgeable and professional technicians throughout the country. With their team of well-trained technicians, MaintenX self-performs and manages facility maintenance for clients. In the event there is not a MaintenX technician in the area, the company has fostered a network of preferred vendor partners throughout the country to provide superior service for their clients. For more than 40 years, MaintenX has been expertly serving multi-location retail stores, restaurant chains, and Fortune 500 companies nationwide.