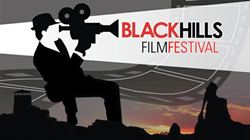 Going virtual allows the festival to present expanded programming, include more films, and take advantage of increased participation in educational panels and presentations. Find the 12th Annual Black Hills Film Festival streaming February 18th- 25th on Film Festival Flix.
SIOUX FALLS, S.D. (PRWEB) February 17, 2021
According to Chris VanNess, Executive Director of the Black Hills Film Festival and one of its original founders, indigenous people make up 15-20% of the population in the immediate vicinity of Hill City, South Dakota. The Black Hills Film Festival, based in Hill City, offers a much-needed opportunity, VanNess says, "for indigenous filmmakers of all ages and experience to tell their stories to a majority population that has little grasp of their culture or issues."
"For the past 12 years," VanNess reports, "the Black Hills Film Festival has been promoting rarely seen, non-mainstream stories about the people and cultures of South Dakota including rural lifestyles and a large indigenous population. Independent films, like those solicited and nurtured by this festival increase the opportunities for underserved, rural communities in South Dakota and on our nine Native American Reservations to see themselves on film, to experience a story of their own telling or a story to which they can relate."
Jesse Short Bull, an Oglala Lakota filmmaker from Interior, SD, shares his Black Hills Film Festival experience:
"One of my favorite memories was attending the very first Black Hills Film Festival (2010) with my fellow (Oglala Lakota College) classmates. They welcomed our little class with grand hospitality, and seeing films and meeting filmmakers from all over the globe left us all with an overwhelming sense of optimism that we could see our films on the big screen someday. It all came full circle again at the 2014 Black Hills Film Festival as the first film that I poured everything I had into was playing on South Dakota's biggest screen. I finally knew what it meant to have a dream come true."
Jesse has since become a multiple Sundance Institute scholarship winner in writing and producing films and serves on the BHFF board of directors.
This year, the COVID-19 pandemic prompted BHFF to pursue a virtual festival, but VanNess and the Black Hills Film Festival team see an advantage with the virtual shift. They're excited about the vast audience growth and exposure opportunities that the virtual festival format provides.
Niche festivals with specific local, historical, or cultural appeal are a specialty for Film Festival Flix, a streaming platform that emphasizes community building and connection through the artistic medium of film. For festivals like Black Hills, streaming virtually with Film Festival Flix allows them to focus on their mission, message, and programming, while the platform supports them on an operational level and expands their reach.
It also allows the festival to present expanded programming, include more films, and take advantage of increased participation in educational panels and presentations.
For VanNess and the other BHFF Board Members, as well as participating filmmakers, the 12th Annual run of the festival holds exciting promise.
You can attend the Black Hills Film Festival on Film Festival Flix from the comfort of your own home, using any device you already own. Tickets are on sale now for screenings from February 18th - 25th, with a special extended all-access pass available through March 1st.
Visit FilmFestivalFlix.com.