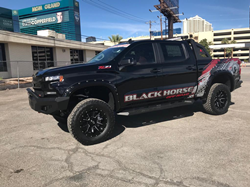 "We are very excited about our partnership with ALC. We want to make our unique and high-quality off-road accessories available to customers in every corner of the country. With ALC's help, we can achieve our dream to enhance the experiences of every automotive enthusiast."
NEW HYDE PARK, N.Y. (PRWEB) January 09, 2019
Black Horse Off Road, one of the fastest-growing brands in the automotive aftermarket, just announced a strategic partnership with American Luxury Coach (ALC.) a Florence, SC Corporation. Black Horse Off Road debuted the first ALC-Black Horse Series 2019 Silverado 1500 at the 2018 Sema Show. The first of its kind Silverado received rave reviews at the show.
ALC will be building the limited edition Black Horse Series GM and RAM Trucks and SUVs. These brand-new custom vehicles come with a full warranty and will be available at Ram and GM dealerships across the country.
The new 2019 BLACK HORSE OFF ROAD Silverado received a tremendous response at the 2018 SEMA Show in Las Vegas, from both industry insiders and consumers alike. The dynamic partnership with ALC will help the brand further expand their line of innovative aftermarket products through the various ALC dealerships. This will help them reach and serve more automotive enthusiasts who want better performance out of their vehicles.
The Black Horse addition to the GMC and RAM series will create a stylish and robust look for all vehicles. Made from hardy materials, they are designed for maximum durability, utility and looks. All products come with necessary hardware included and are customizable per vehicle needs and customer choices. They are backed by warranties and the metal finishes are rust and corrosion resistant as well.
Commenting on the partnership, Fadi Ajam, Black Horse off Road CEO said, "We are very excited about our partnership with ALC. We want to make our unique and high-quality off-road accessories available to customers in every corner of the country. With ALC's help, we can achieve our dream to enhance the experiences of every automotive enthusiast."
Designed to be a lifestyle statement, Black Horse products offer added safety and functionality for the vehicles without the need for extensive modification.
ALC CEO, Joe Jebaily said that "We are happy to partner with Fadi and his vastly popular brand, Black Horse Off Road. They are known for their automotive accessories innovation and our partnership will ensure that all Chevy and Dodge customers get the maximum functionality, appearance, and resilience from their vehicles."
Black Horse Off Road has grown rapidly in the past 15 years. CEO, Fadi Ajam, a man known for his expertise in automotive, off-road and accessories sector, has created a name for his brand, both in terms of quality products and quality customer service. His deep understanding of the niche automotive aftermarket has led to many innovative and award-winning products that promise to change the way we drive.
To learn more about Fadi Ajam, please visit http://inspirery.com/fadi-ajam/
About the company
Black Horse Off Road is a leading manufacturer of automotive aftermarket accessories. Started by Fadi Ajam, a renowned automotive expert, the company has grown from strength to strength during this time. It began as a small local automotive accessories wholesaler about 15 years ago. It has been serving the automotive aftermarket industry with an ever-increasing and innovative product line. Known for its reliable service, the company is now a reputable national brand. To learn more about the company, please visit http://blackhorseoffroad.com