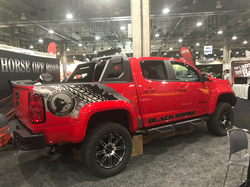 Black Horse Off Road was featured in Keystone's highly coveted New Products Showcase that highlighted more than 180 new items on display.
GRAPEVINE, Texas (PRWEB) March 15, 2019
"The Keystone BIG Show gave us an unparalleled opportunity to get our innovative product line in front of key decision makers, influencers and customers," said Fadi Ajam, president and CEO of Black Horse Off Road – one of the fastest growing brands in the automotive off-road and accessories sector. "Not only were we able to interact face-to-face with customers to explain our product benefits, but also we have discovered new industry and ecommerce trends and interacted with Keystone's entire sales team to better understand their highly successful business model."
As a first-time exhibitor, Black Horse Off Road was featured in Keystone's highly coveted New Products Showcase that highlighted more than 180 new items on display. The company was featured prominently on the BIG Show floor map as well as throughout the two-day event.
Boasting hundreds of suppliers from around the world, including more than 70 brand new exhibitors like Black Horse Off Road, the Keystone BIG Show is the best trade show in the specialty automotive equipment and accessories industry, second only to SEMA. The multi-faceted event connecting all the supply chain players provides a unique platform for participants to introduce new products, sell to new customers, and build brand awareness in the highly competitive automotive space.
"Keystone is the leading distributor and marketer of specialty aftermarket auto parts in North America, and we were honored to introduce our automotive accessories to their discerning base of auto enthusiasts," added Ajam, whose state-of-the-art product line includes grille, tail light and rear bumper guards; bull and safari bars; side steps; running boards; LED lights and bars; OEM replacement and off-road fog lights; and rear bumper protectors.
Black Horse Off Road's high-quality, competitively priced items can be purchased at a variety of automotive retailers around the country, as well as through online retailers including Amazon, American Trucks, RealTruck, Auto Anything, CarTrix, Carid, American Muscle and PartsEngine.ca to name a few.
For more information on their award-winning products, visit http://www.blackhorseoffroad.com.
About Black Horse Off Road
Founded by Fadi Ajam, Black Horse Off Road has provided reliable service and innovative products to the automotive aftermarket industry since 2002. Over the past 17 years, the company has grown from a small local automotive accessories' wholesaler to a nationally respected brand. Black Horse Off Road has also expanded operations throughout North America, with facilities in Georgia, South Carolina, California and New York that allow it to effectively meet consumers' increasing product demand and facilitate on-time delivery.