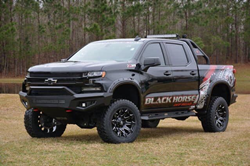 Automotive accessory innovator now able to offer its high-quality products through the industry's leading B2B wholesaler
NEW HYDE PARK, N.Y. (PRWEB) January 18, 2019
"We are thrilled that wholesale clients across the country and in Canada will now be able to purchase our products through Keystone Automotive," said Fadi Ajam, president and CEO of Black Horse Off Road and a highly regarded expert in the automotive off-road and accessories sector. "As the preeminent distributor of specialty automotive equipment in North America, with seven distribution centers and 500+ trucks and trailers making deliveries to customers in 48 states and nine provinces in Canada, Keystone gives us a unique opportunity to offer not only our auto accessories, but also our advice and guidance about these items, to their vast network of installers and auto enthusiasts."
One of the fastest growing automotive brands, Black Horse Off Road's innovative product line includes grille, tail light and rear bumper guards; bull and safari bars; side steps; running boards; LED lights and bars; OEM replacement and off-road fog lights; rear bumper protectors and more. These in-demand items can be purchased at a variety of automotive retailers around the country, as well as through online retailers
For nearly two decades, Black Horse Off Road has been committed to providing the best quality, innovation, prices and customer service in the automotive accessories industry. For more information on their award-winning products, visit http://www.blackhorseoffroad.com.
About Black Horse Off Road
Founded by Fadi Ajam, Black Horse Off Road has provided reliable service and innovative products to the automotive aftermarket industry since 2002. Over the past 17 years, the company has grown from a small local automotive accessories' wholesaler to a nationally respected brand. Black Horse Off Road has also expanded operations throughout North America, with facilities in Georgia, South Carolina, California and New York that allow it to effectively meet consumers' increasing product demand and facilitate on-time delivery. For more on Fadi Ajam, visit http://www.fadiajam.com.
Contact:
Black Horse Off Road
http://www.BlackHorseOffRoad.com