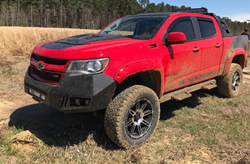 actions speak louder than words
NEW HYDE PARK, N.Y. (PRWEB) June 12, 2019
Loaded with Armour front and rear bumpers, Impact side steps, Armour roll bar, and G-Series 20" and 30" light bars – and boasting a vibrant red custom paint job – Black Road Off Road's eponymous truck took three weeks to complete. The result was an eye-catching, state-of-the-art vehicle that the company can use to build their brand and drive product sales – and that, after some additional upgrades, will also be highlighted at the 2019 SEMA Show in Las Vegas this fall.
Last month, Black Horse Off Road filmed two professional-grade videos to visually depict the adaptability of their high-end products in both rough and smooth terrains. Utilizing multiple cameras including GO Pros, a DCI drone and Sony video cameras with gimbles, two videographers filmed the Chevy Colorado for three days as it skillfully navigated past the Empire State Building, Metropolitan Museum of Art, Radio City Music Hall and other iconic Manhattan landmarks. A similar four-day shoot was implemented in the dirt, woods and bumpy fields of Florence to demonstrate the truck's off-road traction.
"These videos show our customers, distributors and other influencers how well our products perform in real-world applications," said Fadi Ajam, president and CEO of Black Horse Off Road – one of the fastest growing brands in the automotive off-road and accessories sector. "It's truly a case of actions speak louder than words because we're showing end users in a very visual, visceral way how nimble, rugged and flexible our products are in two very different environments."
Off-roading video:
https://www.youtube.com/watch?v=yv2eCI_f6u0
NYC touring video:
https://www.youtube.com/watch?v=RATryArdhXI&t=2s
Black Horse Off Road's state-of-the-art product line includes grille, tail light and rear bumper guards; bull and safari bars; side steps; running boards; LED lights and bars; OEM replacement and off-road fog lights; and rear bumper protectors. high-quality, competitively priced items can be purchased at a variety of automotive retailers in New York, New Jersey and Pennsylvania, as well as through online retailers including Amazon, American Trucks, Auto Anything, CarTrix, American Muscle and PartsEngine.ca.
About Black Horse Off Road
Founded by Fadi Ajam, Black Horse Off Road has provided reliable service and innovative products to the automotive aftermarket industry since 2004. Over the past 15 years, the company has grown from a small local automotive accessories' wholesaler to a nationally respected brand. Black Horse Off Road has also expanded operations throughout North America, with facilities in Georgia, South Carolina, California and New York that allow it to effectively meet consumers' increasing product demand and facilitate on-time delivery.