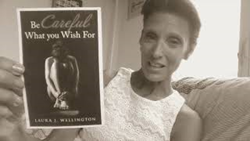 "Love and Story know no color."
MADISON, Conn. (PRWEB) September 23, 2020
"Be Careful What You Wish For," the new "paranormal love story based on real life" has taken a classic approach to advertising on a medium that is anything but. The book's new Youtube Ad features Author Laura J. Wellington in Black & White holding a sample of the cover while describing the differences between her book and other more well-known predecessors. It is elegantly crafted, both sophisticated and imaginative, reminding viewers of earlier days in film and television when the art of romance emerged onto the silver screen.
See this video link to view the Youtube Ad.
A Tedx Speaker, Forbes Enterprise Award Winner, Buzz Award recipient, and Telly Award recipient, Wellington has been recognized for her creativity in marketing and advertising in her twenty year entrepreneurial career.
An effort to support Black Lives Matter, Wellington chose to remove all color from the video, stating "Love and Story know no color."
"Be Careful What You Wish For" is set to release in October/November 2020.
To learn more go to this link. For interviews, email ljwelli@gmail.com or Tammy@wordsmatterpublishing.com