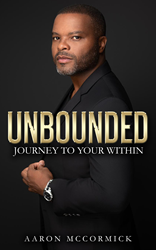 DALLAS (PRWEB) January 09, 2020
Because we all must address the loudest questions that are felt as energy within: Will this be right for me, Am I fulfilled, What is my unique purpose and how do I maximize it, Aaron McCormick's new book Unbounded – Journey to Your Within seeks to shine a light on the ability we all have within to decode your own answers for maximum clarity and self-actualization.
In Unbounded, McCormick applies refreshing universal wisdom to common life experiences for lessons that reveal your purpose and truths previously buried or impaired by what McCormick calls "binders". Binders are consumed and learned ideals and expectations, labels, behavior and energy foreign to your original essence. "We are conditioned to look extrinsically for direction and answers that can only be found within – you just have to know how to look," said McCormick.
Unbounded navigates a hi-fidelity journey to your personal "within" to identify and remove unconscious internal conflict, decode your most authentic expression and maximize your purpose of joy across four significant areas of life: Self, Love & Relationships, Money and Work.
Raised by a single mom on the South Side of the Chicago, Aaron McCormick, since the age of 23 became one of the world's leading technology sales executives, earning millions and receiving numerous awards and distinctions. He has founded several companies and earned an MBA from a top business school with the rare precedent of having no prior undergraduate college degree. McCormick courageously stood up to and escaped the fundamentalist religious cult in which he was raised resulting in loss of his universe of friends and family. Aaron helps people of all backgrounds realize greater success and fulfillment in career, love & relationships as well as corporations in areas of sales and leadership. To learn more, visit http://www.aaronmccormick.com