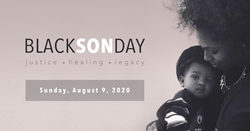 "The whole world has been watching these events unfold, causing extreme trauma," said Dr. Casey. "Now we must react, respond, and reset our emotions in order to heal. On Black SON Day we can collectively join forces and begin to heal spiritually."
ST. LOUIS (PRWEB) July 23, 2020
"From Ferguson To The World."
On August 9th, 2020, exactly six years after 18-year-old Michael Brown was fatally shot by a white police officer in Ferguson, Missouri, a day of remembering and healing will take place throughout the world.
Studies show that in some places in the U.S., black people are killed by police up to six times more frequently than whites.(1) Black children of all ages have been killed by senseless acts of violence since that summer day when Michael Brown was shot and his body left unattended in the street for six hours. However, it was the murder of George Floyd on May 25th of this year that shocked the world, brought a new focus both to longstanding patterns of senseless acts of violence in the U.S., and inspired the urgency to change the culture that has permitted it.
Speaking in advance of Black SON Day, Lesley McSpadden, Michael Brown's mother said, "All mothers want justice for their child, but until we get it we are seeking healing."
A variety of community programs and organizations have been founded to draw attention to the problem. To connect these community programs, Black SON Day was created by Dr. Marty K. Casey, founder of UnGUN Institute, to globalize these initiatives.
"The whole world has been watching these events unfold, causing extreme trauma," said Dr. Casey. "Now we must react, respond, and reset our emotions in order to heal. On Black SON Day we can collectively join forces and begin to heal spiritually."
The event is in partnership with global networks and partners including UNITY EARTH, a 501c3 based in New York, Compassion Games, SINE Network, World Unity Week, Radical Joy for Hard Times and others.
On Black SON Day, we will accomplish the following:
Host an online forum for collaboration on how to move forward
Incorporate the arts as part of community response to traumatic events
Introduce The UnGUN Institute H.E.A.L. Method™
How to disarm Trauma-Bullets
Engage and reverse TRAuma using ART
Activate your Firing-Power by targeting your Bullseye
Look out for Trauma-Triggers and set your SAFEty-Lock
Black SON Day 2020 will launch an annual commemoration. This virtual live event will take place twice on Sunday August 9th:
Session 1 - 10:00 AM-noon CDT
Session 2 - 6:00 PM-8:00 PM CDT
This event will feature an open Q&A session with leading experts on healing trauma. Those in attendance will have the opportunity to hear personal stories from families who have been traumatically affected by senseless acts of violence and learn how those families have learned to UnGUN and disarm trauma. We will also incorporate creativity by bringing together dance, music and other arts. The program will conclude with a DJ'd dance party aimed at creatively disarming trauma from our minds, bodies, and souls.
There are several ways to participate. First, everyone can join a virtual session on Black SON Day. Second, families affected by traumatic events are invited to post a photo and expression of hope on the UnGUN Institute Facebook page. Last but not least, people can also participate by tying a red ribbon on their front door, signifying bringing an end to senseless acts of violence, gun violence and police brutality around the world.
Please follow us on the Facebook event page for Black SON Day to register for one or both of the virtual sessions.
Dr. Marty K. Casey is an actress and activist, what she refers to as an "Act-rivist". Dr. Casey has been recognized and awarded for her community efforts for over thirty years. She founded Show Me Arts Academy and UnGUN Institute after being inspired to share her personal story of how she overcame childhood trauma.
Michael Marshall, "US police kill up to 6 times more black people than white people," New Scientist, June 24, 2020, https://www.newscientist.com/article/2246987-us-police-kill-up-to-6-times-more-black-people-than-white-people/
For further information contact:
https://www.facebook.com/events/471178087086909/
Dr. Marty K. Casey
drmartykcasey@gmail.com
St. Louis, MO