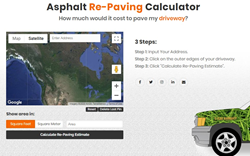 OTTAWA (PRWEB) June 09, 2020
Black Tar announced today that they have created the first online paving calculator for home-owners! The paving calculator allows home-owners to calculate the price of re-paving their driveway without the assistance of a person. Utilizing Google maps technology and their own advanced algorithm, Black Tar was able to develop a tool that is not only accurate but also educates the user on the various types of paving options.
"Social Distancing seems to be our new norm," said Samy Tahtawy, CEO of Black Tar construction. We thought maintaining our original lifestyle would be easy, but the longer we live it, the more we realize how much is missing. As companies work harder than ever to help bring the world to your fingertips, Black Tar realized that the construction industry lacks an online presence. Thus, an online paving calculator for residential home-owners was created.
Samy states "We don't take chances when it comes to the health and safety of our employees and customers. Strategic risk is healthy, but not at anyone's expense,"
The online paving calculator works in four easy steps
1. Input your address in the Black Tar – Driveway Paving Calculator
2. Select your area to be re-paved within the map
3. Select your type of re-paving option
4. Print or email the results
Black Tar Paving was founded in 2013 with the goal of offering outstanding customer service and quality asphalt. The growth of Black Tar has been achieved through exceeding customer expectations at any cost.