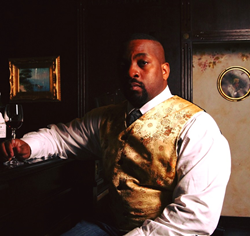 One friend asked me if I was going to have labels with white women on them because white women also drink wine. That in itself justified the reason why I have Black women on my bottles [in several ways].
WASHINGTON (PRWEB) February 17, 2021
There are very few Black professionals in the wine industry; fewer are winemakers and/or label owners, and even fewer are importers or distributors. Add that many Black-owned wine offerings are from the same six to ten commonly known varietals. And, that much of the diversity of wine hasn't been presented to Black folks specifically, let alone Americans in general. Zachary M.C. Harris is looking to change that.
Hailing from Philadelphia, for the past fifteen years, Harris has built relationships with producers throughout the world, seeking unique wines to make up his brand's initial portfolio. Harris wants to bring great wines to African Americans and others, with a focus on Black women via his company Ikavina Wine and Spirits, LLC. "There are many great wines [that many aren't exposed to] that don't cost an arm and a leg." Currently, Harris has nine wines under his "Wanna Be" Wines brand, consisting of everything from white, sparkling rose, red, dessert and fortified which are sourced from Italy (Veneto, Lombardy, Campania), Portugal and even the Azores. And while the brand name may seem different, he connects it with concepts of several songs which all speak to the Black experience; "I Want to Be Free," "I Wanna Be Where You Are," "I Wanna Be Your Lover," and "Wanna Be Starting Somethin'." As a creative, with a passion for writing, music, dance and art, this endeavor allows him to exercise his talents; there are even t-shirts with poems written for some of the labels which also feature the designs and an upcoming release has the accompanying poem on the bottle.
Harris' persistence, philosophy and passion for wine [as well as being an importer and distributor] has him participating in myriad tastings and trade shows annually, from NYC to Italy, Spain and Portugal. "Sometimes in the room I am: the only Black person; the only non-white person; the only U.S. citizen; or a combination of all three." It's all about building relationships, which has as much to do with what you know, and also the mutual respects and interests discovered. This resulted in Harris becoming a Soul Wines ambassador (an organization focused on small producers in the Douro region of Portugal), as well as working with various producers in Italy and Spain and forming some upcoming initiatives based on region (Valpolicella, Toscana, Douro) or certain things (Grappa, Cava). "Sometimes a producer wants to work with me based on my reaction to their wines, but also their interactions with me and observing my behavior*," said Harris.
Currently, Harris distributes in D.C. and has distribution in Pennsylvania and Maryland and is finalizing Delaware. Online orders can be shipped to most of the US. For more information go to http://www.ikavina.com, email him at zacharymcharris@ikavina.com or call 302-386-8118
*Over the years, Harris has had a lot of "interesting" moments while pursuing the business of wine, usually underlined by his gregarious attitude and amiable treatment to the people he comes across, especially those in the service industry. It is very common for him to attend a wine tasting or trade show and be approached by someone he met in the past at a similar event that remembered his dress, his philosophy about wine, and/or his reactions to their offerings, and his knowledge about that type of product. The difference in time could be the same year, a year, or even ten; he makes an impression that sticks.