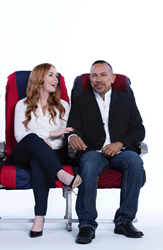 Since retiring from playing in the NFL I took on a Scout Consultant role with the Philadelphia Eagles and with all the traveling I do my Slumber Bliss seat cover has been one of my favorite traveling necessities. I never leave home without it
AUSTIN, Texas (PRWEB) October 29, 2020
One never knows what kind of germs, viruses and bacteria are lurking on seat surfaces of buses, trains and airplanes, especially during this time of COVID-19. The easy safe solution? Patent Pending Slumber Bliss re-usable antimicrobial seat covers! They are the simplest way to protect yourself and your family during travel from germs, bacteria, allergens, and pathogens that may be on contaminated seats that can cause illnesses or bacterial infections. Proudly made in the USA and accepted by all airlines and travel providers around the world, these universal seat covers are launching to high demand as one of the newest traveling necessities preferred by safe and savvy travelers.
Founded by Nichale Denby and Nichole Denby-Jackson, the dynamic sisters found a way to help travelers in the midst of one of the most uncertain and challenging times that the human race has ever faced. During the early days of the pandemic, the sisters were informed that a family friend tested positive for COVID-19. With the fear of possibly contacting the deadly virus from sitting and touching unsanitary seats while flying, the sisters came up with a superb idea to create reusable antimicrobial airplane seat covers. Nichale and Nichole had a seamstress develop a few samples out of soft, high quality antimicrobial fabric to sell to their close friends and family members.
One of the main goals of launching a company around their popular seat covers was to gather funds to make an impact by giving back to essential workers. The sisters used some of the seat cover sales proceeds to deliver food and much needed medical supplies, including PPE, to local hospitals in Los Angeles and surrounding areas. The duo also made errands and grocery store runs for individuals at high risk for COVID-19 in hopes to mitigate their risk of becoming infected. After receiving so many compliments and praise from fellow airline passengers, friends, and family on their safety seat covers' design, they decided to take it to the next level and mass produce the seat covers for the general public across the globe.
Moving forward, the Denby Sisters will continue their philanthropic efforts and donate a portion of all proceeds to a charitable organization selected by the public through submissions to their website each quarter.
All Patent Pending Slumber Bliss seat covers come with a clear waterproof seat cover tote. The Slumber Bliss product line also includes disposable seat covers, sanitary travel kit, plush blanket attachment, and copper infused compression socks. All seat covers can also be used on most buses, trains, automobiles, and movie theater seats.
Nichale Denby, MBA, is a HBCU graduate that is balancing her respectable career as both a tech executive and entrepreneur. Currently flourishing in a successful career in tech and entrepreneurship like her sister, Nichole Denby-Jackson was also a world class athlete – she ran the 100-meter hurdles for the USA team in the 2007 World Championships, and was an USA Olympic Team alternate in 2008. To date, there have been some high-flying sports figures who were early adopters and are now ambassadors of Slumber Bliss seat covers. These include Bradie James, former NFL Linebacker for the Dallas Cowboys, Darren Sproles, former Pro Bowl and Super Bowl Champion Running Back for the Philadelphia Eagles, and Sanya Richards-Ross, an Olympic Gold Medalist and American Record Holder in the 400 meters.
Sproles notes, "Since retiring from playing in the NFL I took on a Scout Consultant role with the Philadelphia Eagles and with all the traveling I do my Slumber Bliss seat cover has been one of my favorite traveling necessities. I never leave home without it!"