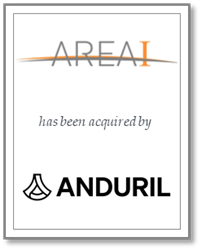 CHARLOTTE, N.C. (PRWEB) May 19, 2021
Area-I, headquartered in Marietta, GA, is an aerospace company dedicated to the development of state-of-the-art Unmanned Aircraft Systems ("UAS"). Since the Company's founding in 2009 by Dr. Nicholas Alley and other key shareholders, Area-I has become the go-to source for Tube-Launched, Tube-Stored aircraft including its flagship ALTIUS platform. The Company's revolutionary Pneumatically Integrated Launch System ("PILS") enables users to deploy the fixed-wing ALTIUS from the air, sea or ground. ALTIUS, which offers unparalleled endurance and payload capacity in its size class, is utilized by all branches of the U.S. Armed Forces, U.S. Special Operations Command, NASA and select commercial customers.
Founder-owned Area-I's partnership with Anduril will rapidly advance their share of modernizing the defense capabilities of the U.S. and its allies with transformative technologies and a broader portfolio of unmanned aerial systems. Area-I will operate as a wholly owned subsidiary of Anduril under the Area-I brand.
BlackArch was retained by Area-I to serve as the Company's exclusive financial advisor. The transaction builds upon BlackArch's significant momentum in high-tech, aerospace and defense and related next-generational industrial firms and is a further example of the firm's ability to drive superior outcomes for market-leading and founder-led businesses.
Dr. Nicholas Alley, Co-Founder and Chief Executive Officer of Area-I, stated, "Area-I is an unconventional company, and I am an unconventional CEO. I'd never really pondered exit strategies or taking on a partner when I founded the Company. I just sought to create an environment where good people could develop great technologies."
Dr. Alley continued, "When it became obvious that we could no longer bootstrap Area-I's breathtaking growth, I was caught flat-footed and naive to the difficulty of raising capital. In stepped the BlackArch team, who quickly became my confidants and advisors, helping to educate, protect, and guide me through one of the most important and difficult decisions of my life. In the end, BlackArch successfully delivered a fantastic outcome that will provide us with much-needed expertise and capital, all while preserving the culture that makes Area-I great."
Area-I, LLC
Area-I, LLC is a metro-Atlanta-based aerospace company dedicated to the development of state-of-the-art Unmanned Aircraft Systems (UAS). Area-I specializes in the design, prototyping, systems integration, flight controls, and flight testing of unmanned systems. Area-I is the go-to source of on-demand, tube-launched aircraft, such as its ALTIUS platform. The ALTIUS platform offers unrivaled endurance and payload capacity in its size class. To learn more, visit http://www.areai.com.
Anduril Industries
Anduril Industries is a venture-backed defense technology company with the mission to transform U.S. and allied military capabilities with advanced technology. Anduril utilizes advancements including AI, computer vision, sensor fusion, optics and automation to radically transform U.S. defense capabilities and solve complex national security challenges. To learn more, visit http://www.anduril.com.
BlackArch Partners
BlackArch is a leading middle-market investment bank offering a full spectrum of advisory
services to financial sponsors, private companies and diversified corporations. BlackArch
addresses the needs of owner-operators, founders and shareholders of private companies with specialized services that include M&A advisory, strategic advisory and private capital solutions. Headquartered in Charlotte, NC, BlackArch features a total of 12 industry-focused practices that cover all sectors of interest to middle-market investors; BlackArch professionals have closed more than 350 transactions in 16 countries on four continents. Please visit our website, http://www.blackarchpartners.com, for more details.
Securities offered through BlackArch Securities LLC. Member FINRA and SIPC. Testimonials may not be representative of the experience of all clients. Testimonials are not a guarantee of future performance or success.