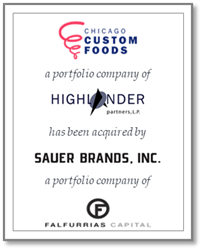 CHARLOTTE, N.C. (PRWEB) May 06, 2020
BlackArch Partners ("BlackArch") is pleased to announce the sale of Chicago Custom Foods ("CCF" or the "Company"), a portfolio company of Highlander Partners, to Sauer Brands Inc. ("Sauer Brands" or "Sauer"), a portfolio company of Falfurrias Capital Partners ("Falfurrias").
CCF, headquartered in Chicago, IL, is a leader in branded popcorn seasonings, a category it created in 2000 with the introduction of Kernel Season's, now America's No. 1 selling brand with more than 20 seasoning flavors (https://www.kernelseasons.com). The Kernel Season's brand also offers an assortment of additional flavor enhancement products, including popcorn oils and drizzles. CCF has expanded into new food categories recently with brands that include Tasty Shakes oatmeal mix-ins, Veggie Season's vegetable seasonings, and Truffle Season's premium truffle-flavored popcorn seasonings. CCF's products are sold through more than 30,000 distribution points in the U.S. and internationally, including mass merchants, grocery stores and specialty retailers, as well as in movie theaters in 30 countries around the world. Its Kernel Season's brand has enjoyed strong sales as popcorn and other snack foods continue to gain favor with consumers.
BlackArch was retained by Highlander Partners to serve as its exclusive financial advisor. The transaction builds upon BlackArch's significant momentum in the food & beverage sector and is a further example of the firm's ability to position market-leading consumer brands.
Jeff L. Hull, President and CEO of Highlander, stated, "The BlackArch team did an outstanding job executing the CCF process on behalf of our shareholders and management. They demonstrated an in-depth understanding of the business and were particularly thoughtful in helping us communicate the investments we made to broaden the platform and position the business for outsized growth. They were steady partners who provided sound advice and certainty in an uncertain M&A environment."
Transaction Highlights

Sauer Brands, a portfolio company of Falfurrias Capital Partners, has acquired Chicago Custom Foods, formerly owned by Highlander Partners
The Company's unique, innovative approach to revitalizing traditional food categories has cemented its position as the market leader in the branded popcorn seasoning space and provided momentum for expansion across multiple category aisles
CCF will operate as a separate business unit under the leadership of Jason Roy, current CEO and a 17-year veteran of the company. Roy will report to Sauer Brands CEO Martin Kelly
BlackArch leveraged its high-touch execution and deep food & beverage sector expertise to achieve a superior outcome for management and the shareholders
About Chicago Custom Foods
CCF is the creator and category leader in branded popcorn seasonings under the Kernel Season's brand name. The Kernel Season's product portfolio includes more than 20 popcorn flavors. CCF has recently introduced additional brands; including Tasty Shakes oatmeal mix-ins, Veggie Season's vegetable seasonings and the premium Truffle Season's popcorn seasonings. The Company's products are sold in more than 22,000 retailers, including mass merchants, grocery and specialty stores, throughout North America and internationally. The products also can be found in movie theaters in more than 30 countries worldwide, accounting for over 32,000 screens.
About Highlander Partners
Highlander Partners, L.P. is a Dallas-based private investment firm with over $2.0 billion of assets under management. The firm focuses on making investments in businesses in targeted industries in which the principals of the firm have significant operating and investing experience, including basic manufacturing, food, chemicals, building materials, consumer products, and others. Highlander Partners uses a "buy and build" investment approach, creating value by helping companies grow organically and through acquisitions.
About Sauer Brands
Founded as The C.F. Sauer Company in 1887, Richmond, Virginia-based Sauer Brands Inc. manufactures a broad line of inspired flavors including condiments, spices, seasonings and extracts. From the company's manufacturing facilities in Richmond, Virginia; Mauldin, South Carolina; New Century, Kansas; and San Luis Obispo, California, the company sells well-known brands such as Duke's Mayonnaise, The Spice Hunter, Sauer's, Gold Medal and BAMA, as well as high-quality private label products, through the retail and foodservice channels.
About Falfurrias Capital Partners
Falfurrias Capital Partners is a Charlotte-based private equity investment firm founded in 2006 by Hugh McColl Jr., former chairman and CEO of Bank of America; Marc Oken, former CFO of Bank of America; and Managing Partner Ed McMahan. The firm is focused on acquiring or investing in a diverse portfolio of growth-oriented middle-market companies. By leveraging the extensive strategic and operational experience and business relationships of the firm's principals, Falfurrias Capital Partners is positioned to be a value-added partner for both its portfolio companies and its limited partners. Media contact: David Coburn, 704. 408.4276, dcoburn@thinklga.com.
About BlackArch Partners
BlackArch Partners is a leading middle-market investment bank offering a full spectrum of advisory services to financial sponsors, private companies and diversified corporations. BlackArch addresses the needs of owner-operators, founders and shareholders of private companies with specialized services that include M&A advisory, strategic advisory and private capital solutions. Headquartered in Charlotte, NC, BlackArch features a total of 12 industry-focused practices that cover all sectors of interest to middle-market investors; BlackArch professionals have closed more than 350 transactions in 16 countries on four continents. Please visit our website, blackarchpartners.com, for more details.
Securities offered through BlackArch Securities LLC. Member FINRA and SIPC. Testimonials may not be representative of the experience of all clients. Testimonials are not a guarantee of future performance or success.