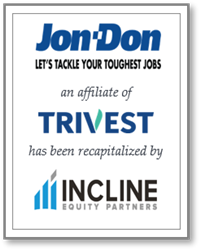 CHARLOTTE, N.C. (PRWEB) January 07, 2021
BlackArch Partners ("BlackArch") is pleased to announce the investment in Jon-Don, LLC ("Jon-Don" or the "Company") by Incline Equity Partners.
Jon-Don, headquartered in Roselle, IL, is a leading value-added distributor of consumable supplies and equipment to specialty contractors across the water and fire restoration, building service / janitorial, concrete surface preparation and polishing, carpet cleaning and safety markets. Since the Company's founding in 1978 by John and Nick Paolella, Jon-Don has built a stellar reputation as a leading supplier to specialty contractors with a broad product offering and best-in-class technical expertise and customer service. Operating from a footprint of 16 facilities across the United States, Jon-Don serves as the one-stop solution for its growing customer base, touting the motto "Let's Tackle Your Toughest Jobs."
In 2017, Jon-Don received a non-control investment from Trivest Partners LP ("Trivest") via its Trivest Growth Investment Fund. This strategic partnership provided the Company with additional capital, thought leadership and support to accelerate the growth of the Jon-Don platform.
BlackArch was retained by Jon-Don and Trivest to serve as the Company's exclusive financial advisor. The transaction builds upon BlackArch's significant momentum in the specialty distribution sector and is a further example of the firm's ability to drive superior outcomes for market-leading and founder-led businesses.
John Paolella, Co-Founder and Chairman of Jon-Don, stated, "At Jon-Don, we pride ourselves on working harder than anyone in the industry to support our customers. In BlackArch, we found a partner that shares that philosophy. From Managing Director to Analyst, the BlackArch deal team worked tirelessly to deliver an exceptional outcome. We could not be more excited to partner with Incline to tackle our next phase of growth."
Jamie Elias, Partner at Trivest, added, "BlackArch yet again delivered as a go-to, trusted advisor to Trivest and our portfolio companies. Their knowledge of the specialty distribution landscape, process expertise, chemistry with Jon-Don's management team and around-the-clock, senior-level attention ensured an efficient process that resulted in a fantastic outcome for all stakeholders."
Jon-Don, LLC
Jon-Don gives specialty contractors and in-house service providers across multiple industries everything they need to keep things clean, safe, and looking their best—whether it's removing that one impossible carpet stain or resurfacing a massive warehouse floor. Since 1978, Jon-Don has provided not just the equipment and consumables customers need, but the real-world knowledge, rolled-up sleeves approach and rock-solid reliability they can't find with other suppliers. Today, with multiple distribution centers strategically located throughout the United States, Jon-Don serves industries ranging from water and fire restoration, concrete surface preparation and polishing, building service / janitorial, carpet cleaning, and more. To learn more, visit http://www.jondon.com.
Trivest Partners LP
Trivest Partners LP, with offices in Miami, Los Angeles, Philadelphia, Chicago, and Toronto, is a private investment firm that focuses exclusively on the support and growth of founder-led and family-owned businesses in the United States and Canada in both control and non-control transactions. Since its founding in 1981, Trivest has completed more than 350 transactions, totaling approximately $7 billion in value. To learn more, visit http://www.trivest.com.
Incline Equity Partners
Incline Equity Partners, headquartered in Pittsburgh, Pennsylvania, is a private equity firm investing in specialized light manufacturing, value-added distribution and business services companies. Incline is seeking growing companies with enterprise values generally in the $25 – $450 million range. Incline's typical investment types are ownership transitions for privately held businesses, buyouts and corporate divestitures within the U.S. and Canada. To learn more, visit http://www.inclineequity.com.
BlackArch Partners
BlackArch Partners is a leading middle-market investment bank offering a full spectrum of advisory services to financial sponsors, private companies and diversified corporations. BlackArch addresses the needs of owner-operators, founders and shareholders of private companies with specialized services that include M&A advisory, strategic advisory and private capital solutions. Headquartered in Charlotte, NC, BlackArch features a total of 12 industry-focused practices that cover all sectors of interest to middle-market investors; BlackArch professionals have closed more than 350 transactions in 16 countries on four continents. Please visit our website, http://www.blackarchpartners.com, for more details.
Securities offered through BlackArch Securities LLC. Member FINRA and SIPC. Testimonials may not be representative of the experience of all clients. Testimonials are not a guarantee of future performance or success.