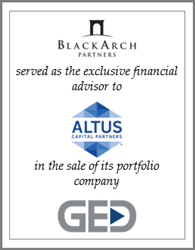 CHARLOTTE, N.C. (PRWEB) March 24, 2020
BlackArch Partners ("BlackArch") is pleased to announce the sale of GED Integrated Solutions, Inc. ("GED" or the "Company"), a portfolio company of Altus Capital Partners ("Altus"). GED, headquartered in Solon, Ohio, is a market leader in intelligent automation systems for the U.S. fenestration industry, providing value-added equipment, software, parts and services utilized by the country's window manufacturers in the production of insulated glass and vinyl window frames. The Company's manufacturing solutions are consistently recognized for achieving superior levels of productivity and efficiency among its blue-chip customer base.
BlackArch was retained by Altus and management to serve as the Company's exclusive financial advisor.
Russell Greenberg, Managing Partner at Altus, commented: "The BlackArch team delivered a consistent, thoughtful approach throughout the process. Their ability to manage all aspects of the deal, including both process strategy and the tactical details, resulted in a highly valued partnership. Working with BlackArch was a great experience, and Altus welcomes the opportunity to partner with them again."
Bill Weaver, Chief Executive Officer at GED, added: "BlackArch consistently provided valuable guidance at key decision points and served as an extension of our team throughout – their partnership with our management team was an instrumental aspect of our sale process that allowed us to focus on running our business while successfully completing a transaction. Our team was continually impressed by their constant professionalism and hard work."
About GED Integrated Solutions
GED offers a variety of equipment, parts, software, and service used in the manufacture and assembly of insulated glass ("IG") and vinyl window frames. GED remains the only provider of equipment capable of producing the Intercept "Warm-Edge" Spacer, a proprietary insulated glass system with enhanced thermal capabilities and quality. GED provides its customers with engineered, modular solutions that increase automation and are adaptable to specific manufacturing needs in the vinyl window market. For more information visit http://www.gedusa.com.
About Altus Capital Partners
Altus Capital Partners is a private equity firm that makes control investments in middle market manufacturing businesses that employ technology and automation. Altus believes that an exclusive focus on manufacturing provides the firm with a unique understanding of the opportunities and challenges faced by companies in the sector. Altus utilizes a patient, thoughtful investment approach and partners with the management teams of the firm's operating companies to achieve growth. For more information, please visit http://www.altuscapitalpartners.com.
About BlackArch Partners
BlackArch Partners is a leading middle-market investment bank offering a full spectrum of advisory services to financial sponsors, private companies and diversified corporations. BlackArch addresses the needs of owneroperators, founders and shareholders of private companies with specialized services that include M&A advisory, strategic advisory and private capital solutions. Headquartered in Charlotte, North Carolina, BlackArch features a total of 12 industry-focused practices that cover all sectors of interest to middle-market investors; BlackArch professionals have closed more than 350 transactions in 16 countries on four continents. For more information, visit http://www.blackarchpartners.com.
Securities offered through BlackArch Securities LLC. Member FINRA and SIPC. Testimonials may not be
representative of the experience of all clients. Testimonials are not a guarantee of future performance or success.