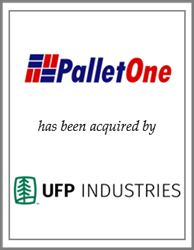 CHARLOTTE, N.C. (PRWEB) January 12, 2021
BlackArch Partners ("BlackArch") is pleased to announce the sale of PalletOne, Inc. ("PalletOne" or the "Company") to UFP Industries.
PalletOne, based in Bartow, Florida, is the nation's leading manufacturer of new pallets, with 17 pallet manufacturing facilities in the southern and eastern regions of the United States. The Company also supplies recycled pallets and other specialized industrial packaging, and its Sunbelt Forest Products subsidiary provides pressure-treated lumber solutions through its five facilities in the Southeast. For over 40 years, PalletOne has been committed to providing high-quality products and industry-leading customer service, making the Company a highly valued supplier to customers seeking mission-critical pallet and treated lumber solutions. PalletOne represents UFP Industries' largest acquisition, strategically expanding its industrial packaging capabilities in the U.S.
BlackArch Partners was retained by PalletOne management and shareholders to serve as the Company's exclusive financial advisor. The transaction builds upon BlackArch's significant momentum in the pallet sector and is representative of the firm's focus on providing dedicated M&A advisory services to market-leading businesses.
Howe Wallace, Chief Executive Officer of PalletOne, commented, "The BlackArch team provided exemplary guidance and support through this period of exploration and transformation. It's hard to imagine navigating this transaction without their able execution."
PalletOne, Inc.
Organized in 2001, PalletOne manufactures new pallets, provides pallet repair programs, recycles used pallets and produces a variety of other wood products. With headquarters in Bartow, Florida, PalletOne's operations include Sunbelt Forest Products Corporation, one of the largest producers of pressure-treated lumber and residential fencing in the Southeast, and SunOne Logistics, a Southeast regional truckload carrier. Through its combined operations, PalletOne employs more than 1,500 people across 22 locations. To learn more, visit http://www.palletone.com.
UFP Industries
UFP Industries is a holding company whose operating subsidiaries – UFP Industrial, UFP Construction and UFP Retail Solutions – manufacture, distribute and sell a wide variety of wood- and alternative material-based building and industrial products worldwide. Founded in 1955, the company is headquartered in Grand Rapids, Mich., with affiliates in North America, Europe, Asia and Australia. To learn more, visit http://www.ufpi.com.
BlackArch Partners
BlackArch Partners is a leading middle-market investment bank offering a full spectrum of advisory services to financial sponsors, private companies and diversified corporations. BlackArch addresses the needs of owner-operators, founders and shareholders of private companies with specialized services that include M&A advisory, strategic advisory and private capital solutions. Headquartered in Charlotte, NC, BlackArch features a total of 12 industry-focused practices that cover all sectors of interest to middle-market investors; BlackArch professionals have closed more than 350 transactions in 16 countries on four continents. Please visit our website, http://www.blackarchpartners.com, for more details.
Securities offered through BlackArch Securities LLC. Member FINRA and SIPC. Testimonials may not be representative of the experience of all clients. Testimonials are not a guarantee of future performance or success.