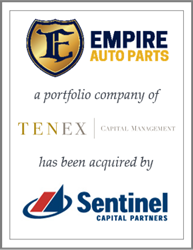 CHARLOTTE, N.C. (PRWEB) November 19, 2021
BlackArch Partners LLC ("BlackArch") is pleased to announce that Empire Auto Parts, LLC ("Empire" or the "Company"), a portfolio company of Tenex Capital Management ("Tenex"), has been acquired by Sentinel Capital Partners ("Sentinel").
Headquartered in Totowa, NJ, Empire is a leading distributor of aftermarket collision parts. From a hub-and-spoke network of 27 facilities, Empire provides industry-leading same- and next-day delivery of more than 40,000 aftermarket collision repair parts, including bumper covers, lamps, hoods, fenders, trunk lids, grills, bezels and door mirrors. Empire serves as an essential channel partner in the collision repair market, linking aftermarket part manufacturers to a highly fragmented base of collision center customers that demand just-in-time, accurate fulfillment of high-quality products. Since partnering with Tenex in 2018, the Company has opened 11 new facilities.
BlackArch was retained by Empire and Tenex to serve as the Company's lead financial advisor. The transaction builds upon BlackArch's significant momentum in the specialty distribution and automotive aftermarket sectors and is a further example of the firm's ability to drive successful outcomes for high-growth, market-leading businesses.
Christopher Siebert, CEO of Empire, stated, "From the outset, BlackArch demonstrated a deep understanding of our market space and competitive positioning. Their team worked tirelessly to help us communicate Empire's story and upward trajectory and quickly homed in on the potential investor partners that best aligned with Empire's commitment to customers, company values and plans for continued growth."
Perrin Monroe, Managing Director at Tenex, added, "We selected BlackArch as an advisor due to their proven ability to deliver attractive outcomes for businesses like Empire. BlackArch's deep understanding of the Company's business model and rigorous upfront preparation ensured the Empire story was effectively articulated to the right universe of buyers. Their relentless commitment to client service and process excellence resulted in an outstanding outcome for all stakeholders."
About Empire Auto Parts
Empire is a leading specialty distributor of aftermarket collision auto parts. Headquartered in Totowa, NJ, Empire offers more than 40,000 certified and non-certified parts to auto collision repair customers throughout the East Coast from 27 strategically located hubs and supporting satellite locations. Empire is a member of the Certified Automotive Parts Association (CAPA) and the Automotive Body Parts Association (ABPA). For more information, visit http://www.empireautoparts.com.
About Tenex Capital Management
Tenex Capital Management is a private equity firm that invests in middle market companies. Tenex uses an in-house team of hybrid investment professionals skilled in operational leadership, investing, and capital markets structuring to maximize long-term value creation. Tenex's deep operating experience allows the firm to collaborate with management teams to capitalize on business and market opportunities. Tenex has successfully invested in a diverse range of industries, including industrials, business services, healthcare, building products, and auto aftermarket, among others. For more information, visit http://www.tenexcm.com.
About Sentinel Capital Partners
Sentinel specializes in buying and building midmarket businesses in the United States and Canada in partnership with management. Sentinel targets aerospace and defense, business services, consumer, distribution, food and restaurants, franchising, healthcare, and industrial businesses. Sentinel invests in management buyouts, recapitalizations, corporate divestitures, going-private transactions, and structured equity investments of established businesses with EBITDA of up to $80 million. Sentinel also invests in special situations, including balance sheet restructurings, operational turnarounds, and minority junior capital solutions. For more information, visit http://www.sentinelpartners.com.
About BlackArch Partners
BlackArch is a leading middle-market investment bank offering a full spectrum of advisory services to financial sponsors, private companies and diversified corporations. BlackArch addresses the needs of companies with specialized services that include M&A advisory, strategic advisory and private capital solutions. Headquartered in Charlotte, NC, BlackArch features a total of 12 industry-focused practices that cover all sectors of interest to middle-market investors; BlackArch professionals have closed more than 350 transactions in 16 countries on four continents. Please visit our website, http://www.blackarchpartners.com, for more details.