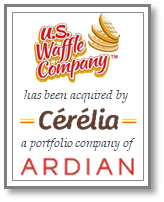 CHARLOTTE, N.C. (PRWEB) April 08, 2021
BlackArch Partners LLC ("BlackArch") is pleased to announce that U.S. Waffle Company, Inc. ("U.S. Waffle" or the "Company") has been acquired by Cérélia Group Holding SAS ("Cérélia"), a portfolio company of Ardian.
U.S. Waffle, headquartered in Greenville, SC, is a premier contract manufacturing solutions partner for popular frozen breakfast items, including waffles, pancakes and breakfast sandwiches. The Company's focus on specialty, hard-to-manufacture frozen breakfast items that address better-for-you and natural ingredient trends support its strategic vision to be the highest quality and most efficient producer of specialty pancakes and waffles in the industry. U.S. Waffle's position as a competitively differentiated innovator of specialty breakfast foods has created consistent, entrenched relationships with leading branded and private-label customers. Over the past several years, the Company has successfully accelerated its organic growth while making strategic investments in facilities and infrastructure to further strengthen its capabilities and competitive positioning.
John Symons, CEO, U.S. Waffle Company, stated, "BlackArch was chosen to represent the Company because their entire team made it a mission to learn our business and understand our categories like operators. They also made a great effort to work with, and know, our team members." Mr. Symons further noted, "Our team members at U.S. Waffle Company are very excited to partner with Cérélia as we look to grow our business at an even faster pace. BlackArch brought together two successful businesses that will make a major impact on the breakfast category, both in retail and in food service."
Marshall Cole, former Chairman, U.S. Waffle Company, and Managing Partner, Azalea Capital, said, "During these unprecedented times of COVID-19, the BlackArch team gave us great advice and guidance, and kept our process moving at a crisp pace." He continued, "Their senior-level experience and around-the-clock work ethic resulted in a terrific outcome for our shareholders."
Transaction Highlights

Cérélia Group Holding SAS has acquired U.S. Waffle Company, Inc.
The Company's management team will continue to lead the business segment and remain an integral part of the shareholder group during U.S. Waffle's next phase of growth
BlackArch leveraged its industry experience and process management expertise to drive an expedited process and achieve a superior outcome for management and the shareholders
BlackArch was retained by U.S. Waffle to serve as the Company's exclusive financial advisor. The transaction furthers BlackArch's position as an advisor-of-choice for leading food & beverage companies and is representative of the firm's focus on providing unique M&A advisory services to market-leading growth businesses.
About U.S. Waffle Company
Based in Greenville, SC, U.S. Waffle Company is a leading contract manufacturing solutions partner for popular breakfast items, including waffles, pancakes and breakfast sandwiches. The Company's 350+ employees support its strategic focus on specialty, hard-to-manufacture frozen breakfast items that address better-for-you and natural ingredient trends. With the mission to maintain long-term relationships with its customers, U.S. Waffle Company is dedicated to delivering high-quality, tailored manufacturing solutions. For more information, please visit http://www.uswaffle.com.
About Cérélia
Cérélia is a leading manufacturer of fresh, ready-to-bake dough solutions for pie and pizza, as well as ready-to-heat pancakes, crepes, cookies and cookie dough. Thanks to (i) sustained organic growth over many years, driven by a relentless focus on product quality, service levels and new product innovation (such as the introduction of organic, gluten-free and wholesome products) and (ii) an ambitious, yet thoughtful M&A strategy, Cérélia has become the leader in the European market. In 2015, the Company broadened its strategy through the acquisition of de Bioderij, which extended its product portfolio into pancakes and crepes and launched the Company into the North American and Asian markets. Through the acquisition of Bakeaway in 2016 and English Bay Batter in 2017, Cérélia expanded its presence in the United Kingdom and North America while further diversifying its product portfolio. The Company has meaningful market shares in the private label segment, manufacturing for some of the largest brands in the world alongside its own family of brands, which regularly introduce innovative new products. To learn more, visit http://www.cerelia.com.
About Ardian
Ardian is a world-leading private investment house with assets of US$110bn managed or advised in Europe, North America, Asia and South America. The company is majority-owned by its employees. It keeps entrepreneurship at its heart and focuses on delivering excellent investment performance to its global investor base. Through its commitment to shared outcomes for all stakeholders, Ardian's activities fuel individual, corporate and economic growth around the world. Holding close its core values of excellence, loyalty and entrepreneurship, Ardian maintains a truly global network, with more than 700 employees working from fifteen offices across Europe (Frankfurt, Jersey, London, Luxembourg, Madrid, Milan, Paris and Zurich), the Americas (New York, San Francisco and Santiago) and Asia (Beijing, Singapore, Tokyo and Seoul). It manages funds on behalf of more than 1,000 clients through five pillars of investment expertise: Fund of Funds, Direct Funds, Infrastructure, Real Estate and Private Debt. To learn more, visit http://www.ardian.com/.
About BlackArch Partners
BlackArch Partners is a leading middle-market investment bank offering a full spectrum of advisory services to financial sponsors, private companies and diversified corporations. BlackArch addresses the needs of companies with specialized services that include M&A advisory, strategic advisory and private capital solutions. Headquartered in Charlotte, NC, BlackArch features a total of 12 industry-focused practices that cover all sectors of interest to middle-market investors. BlackArch professionals have closed more than 350 transactions in 16 countries on 4 continents. Please visit http://www.blackarchpartners.com for more details.
Securities offered through BlackArch Securities LLC. Member FINRA and SIPC. Testimonials may not be representative of the experience of all clients. Testimonials are not a guarantee of future performance or success.