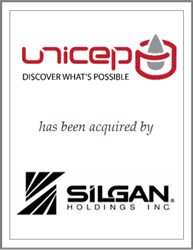 CHARLOTTE, N.C. (PRWEB) November 09, 2021
BlackArch Partners, LLC ("BlackArch") is pleased to announce that Unicep Packaging ("Unicep" or the "Company") has been acquired by Silgan Holdings Inc. ("Silgan").
Unicep, headquartered in Spokane, Washington, is a specialty contract manufacturer and developer of unit dose packaging solutions such as diagnostic test components, oral care applications and skin care products, primarily for the healthcare, diagnostics, animal health, oral care and personal care markets. The Company provides a full spectrum of services including development, formulation, mixing/filling, and primary & secondary packaging. Unicep's packaging solutions include primarily blow-fill-seal as well as swabs, pouches, tubes and oral syringes. The Company's proprietary operating platform enables it to rapidly innovate and quickly bring new products to market. Unicep operates two manufacturing facilities located in Spokane, Washington and Sandpoint, Idaho.
BlackArch was retained by Unicep to serve as the Company's exclusive financial advisor. The transaction furthers BlackArch's position as an advisor-of-choice for leading healthcare companies and is representative of the firm's focus on providing unique, tailored M&A advisory services to market-leading, high-growth businesses.
Clint Marshall, CEO, Unicep Packaging, stated, "The BlackArch team brought a comprehensive approach to designing and managing a process that delivered a successful outcome for Unicep. Being part of Silgan Dispensing will bring tremendous opportunity to all Company stakeholders as we enter an exciting new phase of growth. BlackArch's upfront work was critical in preparing us to tell our unique story to potential buyers. Our transaction took place during a dynamic time for the market and our business, and BlackArch provided steady direction throughout the entire transaction process. It was a pleasure to work with a group that was willing to 'roll up their sleeves' and become an integral extension of the Unicep team—we'd wholeheartedly work with them again and recommend them to any business owner seeking thoughtful and dedicated M&A guidance."
Transaction Highlights

Silgan Holdings Inc. has acquired Unicep Packaging
Clint Marshall will continue to lead the business as part of Silgan's Dispensing and Specialty Closures segment
BlackArch leveraged its industry experience and process management expertise to drive an efficient process and achieve a strong outcome for Unicep
About Unicep Packaging
Unicep Packaging, headquartered in Spokane, Washington, is a Specialty Contract Manufacturer and Developer (SCMD) solutions provider that develops, formulates, manufactures and sells precision dosing dispensing packaging solutions, such as diagnostic test components, oral care applications and skin care products, primarily for the healthcare, diagnostics, animal health, oral care and personal care markets. For more information, please visit http://www.unicep.com.
About Silgan Holdings Inc.
Headquartered in Stamford, Connecticut, Silgan is a leading supplier of sustainable rigid packaging solutions for consumer goods products with annual net sales of approximately $4.9 billion in 2020. Silgan operates 113 manufacturing facilities in North and South America, Europe and Asia. The Company is a leading worldwide supplier of dispensing and specialty closures for food, beverage, health care, garden, home, personal care and beauty products. The Company is also a leading supplier of metal containers in North America and Europe for food and general line products. In addition, the Company is a leading supplier of custom designed plastic containers for shelf-stable food and personal care products in North America. For additional information, please visit http://www.silganholdings.com.
About BlackArch Partners
BlackArch Partners is a leading middle-market investment bank offering a full spectrum of advisory services to financial sponsors, private companies and diversified corporations. BlackArch addresses the needs of companies with specialized services that include M&A advisory, strategic advisory and private capital solutions. Headquartered in Charlotte, NC, BlackArch features a total of 12 industry-focused practices that cover all sectors of interest to middle-market investors. BlackArch professionals have closed more than 350 transactions in 16 countries on 4 continents. Please visit http://www.blackarchpartners.com for more details.
Securities offered through BlackArch Securities LLC. Member FINRA and SIPC. Testimonials may not be representative of the experience of all clients. Testimonials are not a guarantee of future performance or success.