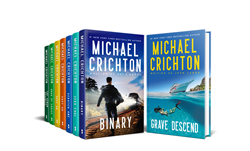 "It is such an honor and pleasure to see the John Lange books freshly and newly published by Blackstone, to reintroduce these books to fans and also present them to a whole new generation of readers." - Sherri Crichton, CrichtonSun CEO
ASHLAND, Ore. (PRWEB) February 21, 2023
Blackstone Publishing has made a major seven-figure deal with CrichtonSun to acquire the worldwide print, eBook, and audiobook rights to Michael Crichton's first series of novels, which he wrote under the name John Lange while he was still attending Harvard medical school and before he became one of the bestselling authors of all time with sales of more than 250 million copies globally in all formats. The books will also be shopped for film/TV adaptation.
CrichtonSun CEO Sherri Crichton has overhauled the company in recent months, signing with Shane Salerno at The Story Factory, and moving forward strategically with a number of new adaptations of her late husband Michael Crichton's properties across film, television, and publishing.
From the Jurassic Park franchise to ER, from Twister to Westworld, and from Rising Sun to The Andromeda Strain, Michael Crichton's films and television series alone have grossed more than $10 billion. Jurassic World (2015) is currently the eighth-highest grossing film of all time worldwide. At one time, Michael Crichton had the number one book, film, and television series in the world simultaneously, and was on the cover of Time.
The first deal announced under CrichtonSun's new restructure was the blockbuster publishing partnership with James Patterson, bringing together two of the biggest and most successful names in publishing history to collaborate on an epic novel based upon an unfinished Crichton manuscript. The forthcoming novel will be published by Little, Brown and Company and is expected to set off a major bidding war for the film/TV rights.
The Blackstone deal is the second most recent major deal for CrichtonSun and is consistent with Sherri Crichton's vision for expanding the Michael Crichton catalogue by producing new film and TV series as well as launching and re-imagining key library titles. Sherri Crichton wrote a new introduction for the John Lange books spotlighting these early Michael Crichton treasures.
"I am thrilled to partner with Blackstone Publishing to publish my husband's series of John Lange books," Sherri Crichton said. "In these eight early adventure books, Michael was honing his skills and themes that would later make him one of the most successful authors of all time. It is such an honor and pleasure to see the John Lange books freshly and newly published by Blackstone, to reintroduce these books to fans and also present them to a whole new generation of readers."
"Blackstone is extremely honored to bring Mr. Crichton's early works back to the forefront," Blackstone CEO Josh Stanton said. "I want to specifically thank Sherri Crichton for trusting us with these special works. Michael was a master storyteller and is one of the most beloved writers of all time for good reason. I can't wait for both new and existing loyal fans to dive into these timeless adventures."
Under CEO Josh Stanton Blackstone has grown substantially, inking deals with a number of high profile brand name authors and companies including Michael Crichton, Disney, The Ian Fleming estate, Neil DeGrasse Tyson, Robert Downey, Jr, Gabriel Garcia Marquez, James Clavell, Don Winslow, and a number of other acclaimed, award-winning New York Times bestselling authors.
John Lange was the pseudonym Crichton used to publish eight of his earliest books, including the first three while still attending Harvard Medical School: Odds On (1966), Scratch One (1967), Easy Go (1968), Zero Cool (1969), The Venom Business (1969), Drug of Choice (1970), Grave Descend (1970), and Binary (1972). Many of these stand-alone novels touch on the same themes and issues Crichton would tackle in his later work, only with a pulpy, crime-thriller twist. The books are set in the late sixties and seventies and were Michael's tribute to Ian Fleming's James Bond novels and to one of his favorite Alfred Hitchcock films, To Catch a Thief. The books are about secret treasures, heists, archaeology, unlikely heroes, seductive and at times treacherous lovers, classic villains, and much more. Becoming an author, not a doctor, was Crichton's dream, and the John Lange novels truly are a testament to his extraordinary imagination, places he dreamed of visiting, and above all, they show the birth of Michael as an author.
Crichton continued to be wildly prolific throughout his career. In addition to the John Lange novels, he authored the classics Jurassic Park, Sphere, Disclosure, Congo, and The Andromeda Strain. Crichton also had extraordinary success as a screenwriter, producer and executive producer. His credits include writing and directing the film Westworld, writing and directing The Great Train Robbery, co-writing the screenplay of Jurassic Park, co-writing Rising Sun (based on his novel), producing Disclosure, co-writing and producing Twister, and producing Sphere. He also created and executive produced the landmark smash hit TV series ER, which aired over 330 episodes on NBC spanning 15 seasons and won 23 Emmys.
Michael Crichton passed away in 2008.
The Blackstone deal was made by Shane Salerno at The Story Factory.
About Blackstone Publishing:
Founded in 1987, Blackstone continues to pioneer new and creative ways to bring stories to life. With multiple New York Times Best Sellers, Grammy award-winning audio productions, and three books placed on the New York Times Best Books of the Year list, Blackstone has firmly positioned itself as one of America's fastest growing and respected publishing houses. A true independent, privately owned publisher with offices on both coasts, Blackstone is home to a vibrant and eclectic community of storytellers and story lovers, offering hundreds of new titles each month to its catalog of 17,000+ books. The authors published are as varied as the books themselves, with works by some of the biggest names in literature including Gabriel García Márquez, Ayn Rand, Ian Fleming, George Orwell, Robert Heinlein, James Clavell, as well as more contemporary authors like Neil deGrasse Tyson, Karin Slaughter, Don Winslow, Robert Downey, Jr., Jeneva Rose, R.L. Stine, Dale Brown, Norman Reedus, Adrian McKinty, and many more.