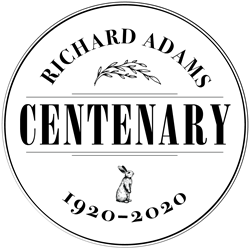 "Veteran character actor Peter Capaldi is the perfect choice to narrate Blackstone Audio's new version of Watership Down…This is pure audiobook magic for any age."-Seattle Times
ASHLAND, Ore. (PRWEB) May 06, 2020
Celebrate the centenary of Richard Adams' birth, on May 9th, 2020, by listening to the incredible audiobook production of Adams' classic novel, WATERSHIP DOWN [Blackstone Publishing; May 7, 2019; audiobook], narrated by award-winning actor, director and screenwriter Peter Capaldi. Richard Adams (1920–2016) grew up in Berkshire, England, the son of a country doctor. After an education at Oxford, he spent six years in the army and then went into the civil service. He wrote many novels and short stories, including Watership Down and Shardik.
One of the most beloved novels of our time, WATERSHIP DOWN, first published in 1972, is an epic journey, a stirring tale of adventure, courage, and survival. Peter Capaldi's brilliant new narration of WATERSHIP DOWN was a finalist for the 2020 Audie Award for Best Male Narrator, a finalist for the 2019 SOVAS Award for Best Audiobook Narration, a winner of an AudioFile Earphones Award, and has been praised as "pure audiobook magic for any age" (Seattle Times). Capaldi, is the winner of two BAFTAs, two British Comedy Awards, and an Oscar for directing the live-action short film Franz Kafka's It's a Wonderful Life. Capaldi is the Twelfth Doctor of the long-running BBC program Dr. Who.
A stirring epic of courage and survival against the odds, this new audio production of WATERSHIP DOWN is a must-listen classic for all ages. Both an exciting adventure story and an involving allegory about freedom, ethics, and human nature, it has delighted generations with its unique and charming world, winning many awards and being adapted to film, television, and theater.
Praise For Peter Capaldi's Narration of Watership Down
"Veteran character actor Peter Capaldi is the perfect choice to narrate Blackstone Audio's new version of Watership Down…His crisp, woolly rasp confides with a homey, avuncular quality, capturing the wonder in Adams' rich descriptions of the English countryside in a way that recaptures the intimacy of being read to as a child. He ably handles the exotic, wuffy-fluffy Lapine vocabulary of the rabbits…and the whole cast with skill reminiscent of Jim Dale's legendary Harry Potter recordings. This is pure audiobook magic for any age."
-Seattle Times
"Narrator Peter Capaldi's resonant voice is perfect for this rerelease of Adams's 1972 epic. Besides his natural Scottish accent, Capaldi crafts more than 20 distinctive voices for this story…Capaldi's pacing is dynamic. His narration of lush descriptive passage of the English countryside is unhurried and soothing, while depictions of battles with rival rabbits and predators bring out all the danger and terror. Capaldi delivers a riveting version of this wonderful classic. Winner of the AudioFile Earphones Award."
-AudioFile
Watch the interview on WATERSHIP DOWN featuring Peter Capaldi and Juliet Johnson, daughter of Richard Adams: https://www.youtube.com/watch?v=BmiMKW7X4zk.
Listen to an excerpt from the audiobook: https://soundcloud.com/blackstoneaudio/watership-down-by-richard-adams.
Find out more: http://www.blackstonepublishing.com/watershipdown.
TITLE: WATERSHIP DOWN
AUTHOR: RICHARD ADAMS
READ BY: PETER CAPALDI
PUBLISHER: BLACKSTONE PUBLISHING
FORMAT: AUDIOBOOK
AUDIO RELEASE DATE: May 7, 2019
TRADE DIGITAL DOWNLOAD ISBN: 9781982562700
TRADE DIGITAL DOWNLOAD PRICE: $24.95
AVAILABLE WHEREVER AUDIOBOOKS ARE SOLD