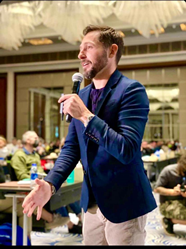 We wanted to create a transformative event experience that connected entrepreneurs who seek to unlock their full potential and have a desire to become more impactful leaders. -- Blake Mallen
LOS ANGELES (PRWEB) April 08, 2021
Blake Mallen, a lifestyle entrepreneur and noted thought leader in the health and wellness sector, was invited to speak at the European Leadership Mastermind in Dubai on March 25 – 28. Over 200 top entrepreneurs across Europe attended the event, which included keynote presentations and educational workshops, followed by a special curated lifestyle experience.
Mallen, whose "Shift The Script – Why Your 'Supposed To' No Longer Works" TEDx Talk recently surpassed one million views and was featured on Ted.com, closed the Mastermind event with a Keynote speech on the future of health and entrepreneurship today. Also joining the stage were top European entrepreneurs, including Italy's Fabio Bollini, Francesco Comito, and Roberto Re, who shared wisdom gained from building multi-million-dollar businesses around an inspirational mission, transformative health products, and passionate communities.
Mallen and other leaders also introduced revolutionary new health technology just now launching in Europe. The event's last day treated attendees to a unique desert community experience that included a 43-car-convoy through the sand dune desert, a guided sunset meditation, and dinner under the Dubai stars.
"As we are all continuing to shift into this 'new normal,' it's so encouraging to see the beginnings of a rebirth in the areas of health, business, and community—especially in Europe," said Mallen. "We wanted to create a transformative event experience that connected entrepreneurs who seek to unlock their full potential and have a desire to become more impactful leaders. Dubai was the perfect location; the city is an example of what it means to have clear vision, and is a powerful reminder of a future where nothing is impossible."
Learn more about Mallen at blakemallen.com and subscribe to his 'ALIVE By Design' podcast series for enlightening conversations on entrepreneurship, human optimization, and creating the life you were 'meant to' live.
About Blake Mallen
Blake is a Billion-Dollar Brand Builder, Community Marketing Expert, TED Speaker, and the host of the popular 'ALIVE by Design' Podcast, with over two decades of experience turning ideas into iconic healthy lifestyle brands that have transformed millions of lives. Blake's TED Talk on how to 'shift the script' (1M+ views) is inspiring a movement to move toward your 'meant to' and make the shift from being alive, to feeling fully ALIVE. Learn more at blakemallen.com and connect at @blakemallen.