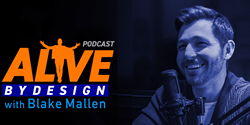 "Now is the perfect time for people to wake up to what they're meant to do and who they're meant to be." -- Blake Mallen
LOS ANGELES (PRWEB) July 20, 2020
Blake Mallen, a billion-dollar-brand entrepreneur, TED Talk speaker and community marketing expert, has just launched his podcast series, ALIVE by Design, created to ignite people's purpose, passion and potential so they can shift from 'being' alive to 'feeling' truly alive. Intentionally released during the time of the coronavirus pandemic when anxiety, fear and self-doubt are seemingly at an all-time high, the show speaks to those who feel "stuck" in life and want to find a more fulfilling and meaningful way to live.
"The seeds for this podcast really go back about twenty years ago when a mentor asked me 'why' I was working so hard to get the grades, the accolades, the high powered job so that I could be seen as 'successful.' My answer of 'because that's what I'm supposed to do,' hit me hard and ignited a lifelong journey to pursue a 'life off the script' and search for answers to creating a more meaningful, fulfilling and impactful life," said Mallen. "Those lessons learned and insight gained over two decades evolved into my mission to 'shift the script' and, later, a TED Talk about just how to do that. And now, my ALIVE by Design podcast was created to bring that message to even more people who are wanting to make the shift."
ALIVE by Design features an enlightening mix of live shows, conversations with the world's most impactful people, and inspired ideas and thoughts—all providing transformation principles that help people to discover what they're 'meant to' do and who they're 'meant to' become. The show provides a variety of format types and locations, from #WalkWithMe episodes walking alongside Mallen on hikes in the hills, to the more formal studio style #QuarantineConversations that feature Mallen and guests discussing trending topics and issues. Show guests include high-profile and relevant thought leaders, industry experts, creatives, entrepreneurs, advisors and influencers in the business, leadership, marketing, lifestyle, wellness and entertainment industries.
The show has already hit the top of trending podcasts list, including #4 in Apple Podcasts -- Italy for Entrepreneurship category and Top 50 in U.S. Entrepreneurship category.
"Now is the perfect time for people to wake up to what they're meant to do and who they're meant to be," said Mallen. "I designed this show to help others not only 'get through' difficult times but also 'grow through' periods of uncertainty and challenge them to use their gifts and talents in ways that positively impact others."
The ALIVE by Design podcast is now available on Apple Podcast, Spotify, and Google Podcast. For information about the show, visit alivebydesign.com and subscribe at alivebydesign.com/subscribe.
About Blake Mallen
Blake is a Billion-Dollar Brand Builder, Community Marketing Expert, TED Speaker, and the host of the popular 'ALIVE by Design' Podcast, with over two decades of experience turning ideas into iconic healthy lifestyle brands that have transformed millions of lives. Blake's TED Talk on how to 'shift the script' is inspiring a movement to move toward your 'meant to' and make the shift from being alive, to feeling fully ALIVE. Learn more at https://blakemallen.com and connect at @blakemallen.