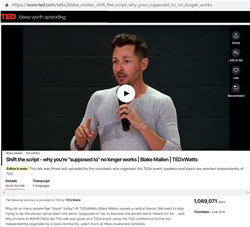 My TED Talk helps people to wake up to their purpose and change their mindset so that they can ultimately change their lives—and move forward to create happier and more meaningful lives. -- Blake Mallen
LOS ANGELES (PRWEB) March 01, 2021
Blake Mallen's TEDx Talk, "Shift The Script – Why Your 'Supposed To' No Longer Works" has just surpassed 1 million views and was recently spotlighted on Ted.com. In response to the fast popularity of the talk, as well as the rising anxiety, fear and self-doubt amidst the COVID-19 pandemic, Mallen launched in July 2020 his 'ALIVE By Design' podcast series to help people wake up, discover what they're 'meant to' do and who they're 'meant to' be so that they can feel fully alive.
A lifestyle entrepreneur known for building billion-dollar brands in the health and wellness sector, Mallen's inspirational 'Shift the Script' message reframes the conversation around the pursuit of purpose, passion and potential, and has resonated with people of all different backgrounds and life stages across the globe trying to cope with the fallout and residue of COVID-19.
"In this 'New Normal' that the pandemic has created, so many people are frozen in fear because they're stuck in uncertainty, their past, and the idea of what is 'supposed to' happen for them in terms of their careers, their family or just their way of life," said Mallen. "One of the reasons why I think my 'shift the script' message is resonating with a lot of them especially now is that it empowers them with hope that 180-degree life pivots can help them not only survive, but thrive during this time."
Adds Mallen: "My TED Talk helps them to wake up to their purpose and change their mindset so that they can ultimately change their lives—and move forward to create happier and more meaningful lives. I'm thrilled that already more than a million people have found value in my message."
Watch Mallen's TED Talk at Ted.com and subscribe to the ALIVE by Design podcast (available on Apple Podcast, Spotify, and Google Podcast) at alivebydesign.com/subscribe.
About Blake Mallen
Blake is a Billion-Dollar Brand Builder, Community Marketing Expert, TED Speaker, and the host of the popular 'ALIVE by Design' Podcast, with over two decades of experience turning ideas into iconic healthy lifestyle brands that have transformed millions of lives. Blake's TED Talk on how to 'shift the script' is inspiring a movement to move toward your 'meant to' and make the shift from being alive, to feeling fully ALIVE. Learn more at blakemallen.com and connect at @blakemallen.