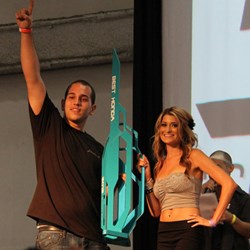 "The car community breaks all barriers in race, religion, gender and background because it's all about the wheels."
Las Vegas, Nevada (PRWEB) August 19, 2013
Taking a car down to its bare chassis, focusing on modifications and improvements for an award-winning import car is one way to describe the dramatic rebuild of the life of Brian Camacho.
Since overcoming life's obstacles and concentrating on the rebuild of an import car, Brian Camacho has developed a taste for social good. Focused on a new mission, Camacho has recently launched a BlessABuck crowd-funding campaign to create the premier Las Vegas speed shop, called AM2, catering to import auto rebuilders. The shop and its exclusive, online platform will positively impact the lives of import car enthusiasts the same way it did for Brian Camacho.
Through his BlessABuck campaign, Camacho is seeking funds to open up a Las Vegas speed shop,
"AM2" that will do the following:

Create an all inclusive speed shop, a local resource for this niche market where followers can rebuild themselves along with their project car,
Revolutionize the import car culture online, with the development of an AM2 interactive mobile application and e-commerce website, both allowing for the AM2's presence to expand outside of regional boundaries.
The AM2 Mobile App is the premier mobile application for the import auto niche market. Unlike anything available currently, this application (Android and Apple based) will allow users to access tutorial forums with "How-To"s on import car repair and modification and product reviews. The application will be an advanced extension of the ecommerce site, offering the ability to sell and shop as an AM2 member and app user. Affiliate marketing will add to the social impact of this application, with raw product reviews from customers, who earn points for creditable reviews. Tutorials, product reviews, event news and more rich media content will all be available through AM2's mobile app, sourced directly from the AM2 Shop as well as local and national resources.
A successfully funded AM2 campaign means at least $100,000 will be raised with in a period of less than 40 days. If campaign funds surpass 100K, additional proceeds will go to a newly, custom-built shop, a grand opening launch party and the creation of a performance car dedicated to all the contributors.
Camacho says, "We want to help individuals grow not only with their cars but into the individuals they wish to become. The car community breaks all barriers in race, religion, gender and background because it's all about the wheels."
Camacho's personal journey has afforded transforming accolades in such a short time:

Featured in four Southern California car shows
Six New Sponsors
First Place Awards (2)
Magazine Coverage
These successes not only provide a sense of accomplishment but also transform a life. This can easily happen for someone else and AM2 can be the catalyst necessary for this transformation.
A support system to promote AM2's cause is currently promoted by BlessABuck, crowd-funding platform based out of Las Vegas, Nevada. Other affiliations also include Team Hybrid; an 18-year nationally recognized import auto club, JDM; specialists in Japanese Auto Parts as well as auto trade magazine outlets.
Supporters of this cause can visit AM2's BlessaBuck campaign (http://www.blessabuck.com/campaigns/am2/) to view a wide range of rewards. From $20 to $2,000, backers at the BlessABuck site will receive rewards ranging from posters and T-shirts to hotel stays, club memberships, name commemoration on plaques and more.
Are you or someone that you know interested in the auto industry and could benefit from a local resource like AM2? Do you have a son or nephew that could use a productive and rewarding hobby like import rebuilding? Build relationships, build a local culture and an online community, all to rebuild lives and help AM2 become a reality today.
For more information about the AM2 and Brian Camacho or its BlessABuck campaign, please visit http://www.blessabuck.com/campaigns/am2/ or view more pictures of Camachos journey at http://instagram.com/Importdj
All other media requests please contact joes(at)blessabuck.com or call 702-589-3330.
BlessABuck is the leading crowd-funding platform based in Las Vegas, Nevada. Focused on socially positive causes, BlessABuck represents and promotes ideas that will change the world, one campaign at a time. For more information on BlessABuck, contact Joe Sanchez at 702-589-3330 and visit online at http://www.BlessABuck.com
###