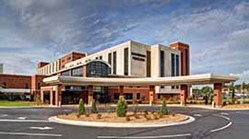 "I am thankful for the diligent work of our Blessing Hospital team in providing quality health care and making true human connections with our patients."
QUINCY, Ill. (PRWEB) February 19, 2020
The care and service provided by Blessing Hospital earned an annual overall rating of four out of five stars among the 4,000 Medicare-certified hospitals in the country. The federal Centers for Medicare and Medicaid Services (CMS) released the rating through its "Hospital Compare" program.
CMS created Hospital Compare in collaboration with organizations representing consumers, hospitals, doctors, employers, accrediting organizations, and other federal agencies to help health care consumers make decisions about where to get their health care and to encourage hospitals to improve the quality of the care they provide.
"Everyone at Blessing Hospital works daily, and to the best of their abilities, to achieve our mission to improve the health of our communities," said Maureen Kahn, RN, MHA, MSN, president/chief executive officer, Blessing Health System and Blessing Hospital. "I am pleased that Blessing has been recognized by CMS as a leading healthcare organization."
"I am thankful for the diligent work of our Blessing Hospital team in providing quality health care and making true human connections with our patients. I know this rating will further motivate them because they feel, as do I, that the people who trust their care to Blessing deserve nothing less than high-quality service. That is one of the reasons the Hospital Compare website was created, to motivate hospital care providers to greater heights of care and service," she concluded.
The annual overall rating is based more than 100 measures divided into seven measure groups or categories: Mortality, Safety of Care, Readmission, Patient Experience, Effectiveness of Care, Timeliness of Care, and Efficient Use of Medical Imaging. The data used for the annual overall rating was calculated from data gathered in February and October of 2019.
Of 158 Illinois providers participating in the Hospital Compare just over 30 percent, including Blessing Hospital, earned an overall rating of four stars. Of the 28 participating hospitals within a two hour drive of Quincy, fewer than half, including Blessing, earned a four star overall rating.
The entire report can be seen at Medicare.gov/HospitalCompare.