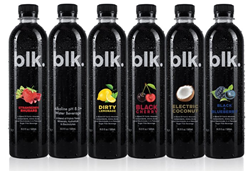 LOS ANGELES (PRWEB) September 01, 2021
blk. International, maker of blk., the nation's leading premium functional water infused with fulvic minerals, is pleased to announce its expansion plans with distribution and availability in Canada.
blk. water is known for its beneficial patented fulvic trace mineral blend, sourced from rich mineral deposits found deep within the earth. Once added to purified water, fulvic minerals turn the water black naturally (without artificial dyes or colourings; and blk. never stains your teeth!). The blk. formula delivers powerful electrolytes, trace minerals, and an alkaline pH water beverage without any carbs, calories, or sugar.
Through its recent broker partnerships with Acosta USA, an integrated sales and marketing services provider in the consumer-packaged goods (CPG) industry, and FreeLance Marketing, blk. is strategically positioned to grow throughout Canada.
"We are very proud to be back in Canada where our two co-founders and sisters Jackie and Louise Wilkie live," said Sara Bergstein, CEO of blk. "We began our first full production run in Canada this past Spring, and our sales began in June. But it wasn't easy as we had to successfully overcome many challenges with the French/English label requirements and regulations, as well as recycling and packaging concerns, to make the products available in Canada."
All of blk.'s SKUs and varieties are available at Sobey's and Co-Ops throughout Canada and are also available online for purchase through getblk.ca, Amazon.ca, Walmart.ca, and Vegansupply.ca.
Get blk. 
blk. water is available at thousands of stores across North America, including Amazon and http://www.shop.getblk.com. For wholesale inquiries, please contact sales@getblk.com.
About blk.
blk. is an ALL NATURAL functional beverage, which only uses high-quality natural ingredients and helps support a healthy lifestyle. blk. is infused with fulvic trace minerals – a super nutrient and one of the most powerful polyphenols known.
Fulvic has been used for thousands of years as a foundational ingredient in Ayurvedic medicine. This has prompted hundreds of accredited scientific and medical organizations to make the fulvic molecule the subject of rigorous independent studies. These studies have reported broad beneficial results relating to improved health and disease prevention – including supporting gut health, brain health, healthy immune function, detoxification, and reducing inflammation.
blk. water is black in colour due to nutrient-rich minerals, which are naturally dark. Made with all-natural plant-based ingredients, blk. has zero carbs, zero sugar, and zero calories. blk. is gluten-free, kosher, and vegan, making it the perfect go-to wellness beverage that tastes refreshing and clean. blk. water helps replenish your body for optimal health! For more information visit, getblk.com.
blk. Water Media Relations: Jen Svejda - jen@getblk.com
Steven Hoffman, Compass Natural, 303.807.1042, steve@compassnatural.com