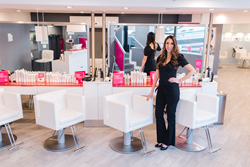 My number one priority is to provide clients with an exceptional experience, from the moment they book their appointment, to the moment they take their final look in the mirror.
GREENWICH, Conn. (PRWEB) January 27, 2020
Blo Blow Dry Bar, the original and largest blow dry bar franchise in North America, is excited to welcome new ownership to its Greenwich location, which first opened its doors in January 2018. Nestled in the heart of Greenwich's premier shopping district at the top of Greenwich Avenue, the newly renovated 1,200 square-foot space will debut updated interior and exterior design elements, fresh talent and an enhanced in-bar experience, including a complimentary refreshments menu, as it celebrates its official grand-reopening.
"As a newcomer to the area, it was important for me to become acquainted with the Greenwich community to ensure a smooth transition for existing clients, as well as to determine any appropriate operational and aesthetic modifications," said Kari Valcich, new owner of Blo Greenwich and multi-unit Blo Blow Dry Bar franchise partner. "My number one priority is to provide clients with an exceptional experience, from the moment they book their appointment, to the moment they take their final look in the mirror. I'm excited to reintroduce Blo to Greenwich Avenue as I continue my journey as a Blo franchise partner."
"Kari opened her first Blo location in 2019 and quickly became one of our top performing franchisees, so when the opportunity in Greenwich became available, we immediately thought of her," said Vanessa Yakobson, CEO of Blo Blow Dry Bar. "Her prior professional experience as a former New York City entertainment executive, coupled with her personal experience as a working mom of three, is a great fit for the area and the continued growth of Blo's Greenwich location."
Blo Greenwich is staffed with a team of experienced, expertly trained stylists and makeup artists, who undergo intensive training and continued education to master the latest beauty trends and techniques. Blo offers a variety of everyday and special occasion hair and makeup services including:

BLOW OUTS & STYLING: Opt for a classic blow out, or choose from one of Blo's signature styles featured in the 'Blo Hair Menu,' from sexy sleek 'Executive Sweet,' to runway-inspired 'Pillow Talk.'
UP DOS & BRAIDING: Choose your own a la carte style or add a braided look to any blow out.
HAIR & SCALP ENHANCEMENTS: Nourish your locks by adding a deep conditioning treatment to any service, or relax and stimulate healthy hair growth with a 10-minute scalp massage.
MAKEUP APPLICATION: Bring your own inspo, or choose a look from the 'Blo Makeup Menu' to enhance your natural beauty, or go full glamour.
BLO BRIDAL: In-bar or on-location, Blo Bridal is an affordable luxury to get brides and their entourages tressed to impress.
Blo uses an array of luxury haircare and color care products by UNITE and Color Wow, as well as a full spectrum of professional skincare and mineral-based makeup from Glo Skin Beauty. All products are paraben, sulfate and cruelty free, and available for purchase on location.
Blo Greenwich also offers a number of in and out of bar beauty perks and services including:

MANE SQUEEZE: Become a Mane Squeeze rewards member to maintain your mane and enjoy product discounts and membership perks including a complimentary birthday blow out.
BLO TAB: For those who love a good blow out but prefer to keep it casual, open a Blo Tab for discounted blow outs that never expire.
BLO ON THE GO & MAKEUP ON THE GO: On-location beauty services for any occasion. From special events and fashion shows, to pop-up braid bars, to a simple house call, Blo will get you pampered pretty wherever flawless hair and/or make-up is desired or required.
BLO PARTY: Featuring a sleek, sophisticated design, upscale ambiance and lush white furnishings with pops of pink, Blo offers customized experiences to suit a variety of occasions, from an intimate beauty themed brunch, to an exclusive VIP event, to the ultimate birthday (blo)out.
To celebrate its grand re-opening, Blo Greenwich will offer $29 blow outs from Friday, January 31 - Sunday, February 2. Appointments can be booked online, by phone at 203.340.9176, or via the Blo app available on iTunes and Google Play. Unlike many full-service salons, Blo Greenwich is open by appointment as early as 7am or as late as 9pm seven days a week, with business hours from 9am to 7pm Monday through Saturday, and from 10am to 5pm on Sunday. To stay up to date on the latest news and promotions from Blo Greenwich, follow @BloGreenwich on Instagram and like @BloBlowDryBarGreenwich on Facebook.
ABOUT BLO BLOW DRY BAR
Blo Blow Dry Bar is the original blow dry bar and the world's largest blow dry bar franchise. The company transformed beauty norms and reinvented the salon industry when it launched the "no cuts, no color" concept: only blow outs. Since opening its first location in Canada in 2007, Blo has grown to over 130 locations across North America and continues to expand rapidly. With a mission to enhance the lives of those in the community through the power of flawless blow outs and beauty services, Blo Blow Dry Bar offers perfectly styled hair and exceptional customer experiences seven days a week. For more information visit http://www.blomedry.com.
ABOUT BLO GREENWICH
Located in the heart of Greenwich's premier shopping district at the top of Greenwich Avenue, Blo Greenwich offers in and out of bar hair and makeup services. As of 2020, Blo Greenwich is owned and operated by Kari Valcich, a former New York City entertainment executive, multi-unit Blo franchise partner and mom of three. For more information, or to book an appointment, visit https://blomedry.com/locations/blo-blow-dry-bar-greenwich-connecticut/
6 Greenwich Avenue | Greenwich, CT 06830
e: blogreenwich@blomedry.com | p: 203.340.9176
FOLLOW BLO GREENWICH ON INSTAGRAM & FACEBOOK
@BloGreenwich | @BloBlowDryBarGreenwich
MEDIA CONTACT
Kristin Sommers
BRAYA
kristin.sommers@brayaus.com
973.715.3230