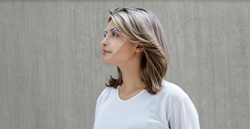 "I never realized how often I touched my face until I consciously tried to avoid doing so,... Knowing I needed to break the habit of touching my face led to the creation of Blocc. It's a face shield that is stylish and functional."
SEOUL, South Korea (PRWEB) June 29, 2020
Today, Blocc, a comfortable, stylish, reusable face shield, launches on Kickstarter to prevent people from subconsciously touching their faces. Knowing the habit is a difficult one to break, Blocc provides a physical barrier and reminder for users.
Germs are on all the surfaces people touch every day. People are also largely unaware of how often they touch their faces which can cause germs and viruses on surfaces to enter and infect the body.
Blocc covers the eyes, nose and mouth with a transparent physical barrier. When wearers reach for those areas, they'll encounter Blocc and be reminded of the habit they are trying to break. Made of polycarbonate, Blocc is durable, washable and reusable. It's also coated with fog and scratch-resistant coatings to make it perfect for daily and repeated use.
A 2015 research study of medical students found that participants touched their faces an average of 23 times per hour. Forty-four percent of the time, that contact involved mucous membranes that could lead to illness if germs were to be spread. Breaking that subconscious action is more important than ever.
"I never realized how often I touched my face until I consciously tried to avoid doing so," said Ben Kim, co-creator of Blocc. "Knowing I needed to break the habit of touching my face while also searching for protective devices that could help keep me safe led to the creation of Blocc. It's a face shield that is stylish and functional."
Designed to be worn over the ears like glasses, Blocc is comfortable and leaves room for it to be worn with most masks, including N95 respirators. It can also be worn with eyeglasses. With a stylish and ergonomic design, Blocc is suitable for everyday use in a variety of settings including running errands or as a wind-deflector during activities like cycling.
Blocc is available to pre-order starting at $19 and is expected to be delivered by August 2020. To pre-order, visit pr.go2.fund/blocc.
About Blocc
Blocc was founded in South Korea, one of the first countries hit hard by the coronavirus pandemic. There, the government immediately recommended wearing masks for all citizens. Noticing the false sense of security wearing masks created, the Blocc team searched for a better way for people to protect themselves. For more information, visit http://www.blocc.kr.