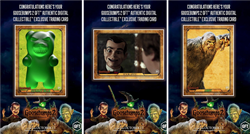 "We were really intrigued with the work Greenfence Consumer has been doing, applying blockchain to our industry and making it user-friendly to a mass audience," said Jamie Stevens, Executive Vice President of Worldwide Consumer Products at Sony Pictures Entertainment.
LOS ANGELES (PRWEB) October 22, 2018
Kids used to play with baseball cards, but now they're trading crypto collectibles on the blockchain.
Hollywood is paying attention: For the release of Goosebumps 2: Haunted Halloween, Sony Pictures collaborated with Greenfence Consumer to create digital trading cards. These cards are collectible, scarce, and tradeable. Some are even pre-loaded with free movie tickets to the movie in theaters beginning October 12th, and some are pre-loaded with cash.
Consumers can collect cards by visiting Websaver.ca every day during the promotion between Oct. 5th through Nov. 5th to get a digital scratcher card and a new chance to collect and win.
The news is an example of a trend among large consumer brands, which are beginning to explore how digital scarcity and crypto collectibles can be used for marketing.
Crypto collectibles solve a problem for marketers in the internet-age: Traditional merchandise (like plastic toys or physical trading cards) can't compete when kids spend all their time online. But today, when anything digital can be duplicated and ripped off, how can a brand create something valuable fans can keep, collect, or later re-sell?
The answer for brands lies in blockchain's unique ability to give digital assets identity and value.
Using Greenfence's proprietary, consumer-friendly blockchain platform, Goosebumps' fans can create a private digital "wallet" with a simple sign-in process that does not require a third-party application or cryptocurrency—two things that have previously created significant barriers to entry for a mass market consumer.
Upon sign-in, every user is gifted a dynamic "Magic Book," as featured in the movie, in which to store their cards as they endeavor to collect them all.
"We were really intrigued with the work Greenfence Consumer has been doing, applying blockchain to our industry and making it user-friendly to a mass audience," said Jamie Stevens, Executive Vice President of Worldwide Consumer Products at Sony Pictures Entertainment. "When they approached us about collaborating with Websaver.ca, the largest coupon site in Canada, we were excited to try the platform and to reach such a large number of our target audience. Greenfence Consumer created simple, fun sweepstakes that will engage parents and their children with our movie — which is perfect because Goosebumps 2: Haunted Halloween is a really fun movie."
"As a company, we continue to focus on the utility aspect of the Blockchain and what it enables, keeping it simple so the everyday consumer can participate," said Mimi Slavin, Head of Marketing and Business Development, Greenfence Consumer. "We want to shift focus from ICOs, Bitcoin, and the hype around Blockchain, and instead develop Blockchain-powered assets, with intrinsic value, that appeal to mass audiences. Digital collectibles are a powerful and practical use case for the technology, and speaks to the diverse ways in which blockchain can be leveraged."
GFT™ Authentic Digital Collectibles™ was created by Greenfence, an award-winning Blockchain platform ecosystem. The GFT™ brand was developed to provide consumers with an identifiable mark indicating that a collectible is authentic, verified, and authorized by the IP holder. Value for the collectibles is derived via scarcity, desirability, and trust in the origin.
Contact:
press@greenfenceconsumer.com
Mikayla Ricks
http://www.greenfence.com, Phone: 424.835.0485
Twitter: @GFTAlliance (https://twitter.com/GFTAlliance)
Instagram: @gftexchange
Facebook: https://m.facebook.com/GFT-Alliance-889316127932321/
About Greenfence Consumer
Greenfence Consumer, a sister company to Greenfence, creates Blockchain based mobile platforms for brands and retailers, enabling advanced engagement tactics and gamified loyalty and rewards programs. Greenfence Consumer has integrated Blockchain technology into coupons and rebates to prevent fraud, control shopper marketer budgets and enable the unbanked to participate in cash back programs. Greenfence Consumer uses their unique crypto wallets to facilitate the next generation in targeted marketing and the distribution of GFT™ Authentic Digital Collectibles™, digital assets powered by the Blockchain. ​Greenfence team members include Hollywood executives, startup founders, early crypto advocates, technology and Blockchain specialists, all with award-winning backgrounds in their fields.
About WebSaver.ca
WebSaver.ca​ is a leading Canadian publisher and distributor of Grocery, Pharma and Mass Coupons. With two million registered Canadian shopper households, the company leverages brand partnerships to provide special offers and coupons to consumers seeking a cost-effective way to shop for and enjoy the brands they love, as well as those brands they may want to experience for the first time. Through its website, ​webSaver.ca​, as well its many custom coupon solutions, webSaver offers brands an omnichannel approach to deliver coupons and offers into the hands of consumers, including Print at Home, High Value Personalized Direct Mail, ​Amazon.ca​ Coupons, E-commerce Coupons, Card Linking, Load to Card and its new Digital Coupons solution that allows consumers to use their smartphones at the checkout. ​WebSaver.ca​ helps make saving easier.
About Goosebumps 2: Haunted Halloween
Halloween comes to life in a brand-new comedy adventure based on R.L. Stine's 400-million-selling series of books. Directed by Ari Sandel, the story is by Rob Lieber and Darren Lemke. The screenplay is by Lieber based on the Goosebumps books written by R. L. Stine. The film is produced by Deborah Forte and Neal H. Moritz. Timothy M. Bourne and Tania Landau serve as executive producers. The film stars Wendi McLendon-Covey, Madison Iseman, Jeremy Ray Taylor, Caleel Harris, Chris Parnell and Ken Jeong.
About Sony Pictures Entertainment
Sony Pictures Entertainment (SPE) is a subsidiary of Sony Entertainment Inc., which is a subsidiary of Tokyo-based Sony Corporation. SPE's global operations encompass motion picture production, acquisition, and distribution; television production, acquisition, and distribution; television networks; digital content creation and distribution; operation of studio facilities; and development of new entertainment products, services and technologies. SPE's Motion Picture Group production organizations include Columbia Pictures, Screen Gems, TriStar Pictures, Sony Pictures Animation, Stage 6 Films, AFFIRM Films, and Sony Pictures Classics. For additional information, visit http://www.sonypictures.com/corp/divisions.html.