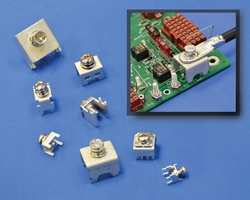 These strong metal connectors are suitable for today's requirements of high current terminations on PC boards.
ELK GROVE VILLAGE, Ill. (PRWEB) November 01, 2018
These strong metal connectors from BlockMaster are suitable for today's requirements of high current terminations on PC boards. The hardware is rated from 20A to 150A.
These rugged terminals are offered as straight or right-angle connectors. Eight different styles provide various pin configurations for mounting.
Features Include:

Rugged high current applications
Available with M4, M5, M6 or M8 screws
Offered with or without screws
Screws supplied with terminals can be provided inserted in terminal or loose in package
Tin plated brass or tin-plated copper (model dependent)
RoHS Compliant
BlockMaster's rugged new line of high-power PCB screw terminals can be used on PCBs in typical applications, such as:

Power Supplies
Solar Power
Inverters
Motor Controls
Battery Chargers
Automotive / Off Road / Marine
Batteries
For more information, visit http://www.blockmaster.com or call BlockMaster at 847-956-1680.
Free samples will be provided upon request to editors of related trade publications. Contact Paul Slattery at 847-956-1680 or pauls(at)blockmaster.com.
About BlockMaster Electronics, Inc.
BlockMaster Electronics has provided innovative interconnect and terminal block solutions to electrical and electronic OEMs since 1994. The company has low-cost, high-quality manufacturing capabilities and can provide reliable products from stock.
A distinct competitive advantage that BlockMaster offers its customers includes the ability to make modifications in-house to its terminal blocks based on customer requirements. BlockMaster's Value-added Center provides the ability to fabricate, modify and print legends on our blocks at our Illinois facility for quick turnaround.
BlockMaster Electronics manufactures terminal blocks from 1 to 380 amps, including PCB styles up to 130 amps. The company offers over 9,500 P/Ns including PCB, Feed-through and Power Distribution types. BlockMaster's Value-added Center can also provide quick turnaround on prototypes.