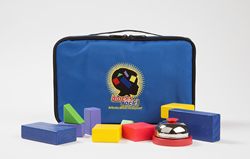 INDIANAPOLIS (PRWEB) May 15, 2020
Blocks Rock!, LLC, makers of the competitive structured block-play educational game for pre-K–6, today released 9 new curriculum guides for teachers and parents. These new resources will help early learners build foundational STEM (science, technology, engineering, and math) and SEL (social-emotional learning) skills.
The new curriculum guides released today for the national Head Start program, California, Texas, Florida, Illinois, Georgia, Ohio, Michigan, and Oklahoma are in addition to the Indiana curriculum guide released earlier this year. Each of the free, downloadable resource can be used by parents and teachers to create a fun and positive experience for students and to keep at-home learning on pace.
Blocks Rock! is the only competitive structured block-play game in the industry proven to improve spatial reasoning, a critical skill for STEM success, and increase SEL skills. Using cards or a 3D companion app, students in grades pre-K–6 compete, individually or in teams, to build color- and shape-specific structures in the shortest amount of time. Research from Indiana University found that the problem solving involved in structured block play activates the area of the brain involving mental rotation and spatial reasoning, skills essential for STEM success.
Block play supports the development of spatial reasoning, pattern recognition, problem solving, and fine motor skills. It also facilitates conversations about building, which support development of early language skills. The National Association for the Education of Young Children (NAEYC) encourages block play as a way to learn these skills and others, including imagination, creativity, self-expression, and SEL growth.
When engaged in Blocks Rock! games, students learn how to navigate competitive situations, practice self-regulation, and collaborate to solve problems as a team while also engaging in critical thinking. Whether at home or in the classroom, parents and teachers can use these curriculum guides to align block play to state standards.
Developed in partnership with professors from Purdue University Northwest School of Education and Counseling, the easy-to-use curriculum guides support cross-curricular learning and play with state standards for learning, especially in SEL, Play and Learning, Science, Math, English/Language Arts, and Physical Health and Growth.
Blocks Rock! for pre-K–6 can be purchased online here or by calling (800) 416-5140. Special educator pricing is available.
About Blocks Rock!
Blocks Rock! has been engaging students in competitive structured block play since 2005. Invented by a team of middle school students as part of a national toy design competition, the game is used in hundreds of schools, clubs, and libraries globally.