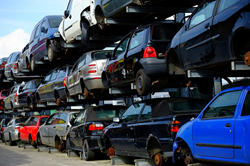 BROOKLYN, N.Y. (PRWEB) October 30, 2020
According to Bloomberg, U.S inflations quickened in August of 2020 partially due to a steep increase in used car costs. This is the largest increase in secondhand vehicles seen since 1962. This change indicates that the economy may finally be recovering after months of downturns. What does this mean for junk car sellers? It means that now is the time to sell. Right now, junk cars are being sold for more than they have been in years. If you have been considering selling your old junk car now it the time to take advantage of the good economy and to sell your junk car for more money.
Investopedia defines the consumer price index as a tool that analyzes the weighted average price of consumer goods and services. For example, some of these costs may be food, gas, transportation, and medical care. The CPI in determined by taking the change in price of an item an averaging them. It is a trusted way of determining cost of living and to discover periods of inflation. Within the last year the CPI has risen 1.3%. Bloomberg economist went on to predict a 1.2% year and year rise and a 0.3% gain monthly.
While the entire CPI is a good way to determine the cost of living, economist typically use the core CPI to better understand national price trends. The core CPI excludes products that change in price often such as food or fuel costs. When looking at the core CPI we see that there was a 0.6% increase in July, making it the largest jump in the last two decades. There was also a 5.6% increase in the price of used cars and trucks. This large increase is responsible for 40% of the CPI increase.
While these statistics are targeted towards used cars, they mean good things for junk car sellers too. The increased demand for used cars may lead to more parts being sold or more scrap metal being sought after. According to Car Take Back, junk car prices have increased since last year. Even in the last few months there have been steady increase in prices. Rusty's Auto Salvage also reports an increase in sales and prices offered to their customers. This is surprising considering in years past months August through October tend to show decreases in junk car prices.
These steep increases are a good indication that there is a greater demand for goods and services than there was earlier this year. The price of used cars is increasing, meaning that now may be the best time to sell. If you choose to sell you could get a much higher price than if you had sold earlier this year. However, you do not want to wait to long because these price increases will not last forever. Contact Rusty's Auto Salvage to find out how you can get hundreds for your junk car today.