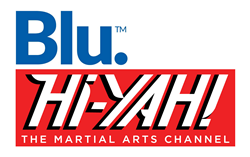 Blu Digital Group services will now include linear channel scheduling, dynamic motion graphics, playout, CDN, and server-side ad insertion (SSAI) to support delivery to FAST streaming video services
BURBANK, Calif. (PRWEB) September 23, 2020
Blu Digital Group (BDG), a media technology and services company, announced today that it has entered the FAST marketplace adding to its existing industry-leading services for content creators and owners who want to create ad-supported linear channels. BDG services will now include linear channel scheduling, dynamic motion graphics, playout, CDN, and server-side ad insertion (SSAI) to support delivery to FAST streaming video services such as SlingTV/DISH, Plex, Xumo, and more which offer free entertainment content to consumers over linear channels.
As its FAST debut, BDG is launching the Hi-YAH! martial arts and Asian action ad-supported linear channel from Well Go USA Entertainment. It will be distributed on Plex and SelectTV–both platforms with exciting new FAST offerings–in 1080HD with dynamic motion graphics. This serves as a natural complement to BDG's existing SVOD distribution deal with Hi-YAH!, currently on Comcast and SlingTV/DISH.
Building on this momentum, Hi-YAH! will be expanding on to several other major FAST distributors by the middle of Q4 2020.
"Content, especially in the AVOD (advertising-based video on demand) marketplace, has become a commodity. This mandates a new mindset and new partnerships like Blu's with Hi-YAH!," says George Rausch, VP of Product and Distribution at BDG and former Director of Content at Pluto TV, "Blu is focusing on licensing existing channel brands and designing compelling linear channel experiences, focusing on the quality of the viewing experience through the use of motion graphics, thoughtful content curation, and delivering unified programming across all distribution platforms."
"We're thrilled to build on our existing relationship with Blu to launch Hi-YAH! as a linear channel. This expands our reach to an audience that prefers viewing great martial arts and action movies without a subscription," added Brennan Lane, Digital Channels Manager for Well Go USA Entertainment. "The timing couldn't be better as Hi-YAH! will premiere its strongest line-up of high flying, fist-pounding action in Q4 including exclusive content only available on Hi-YAH!."
About Blu Digital Group:
Formerly known as 'BluFocus', Blu provides transformative digital supply chain, distribution, and testing solutions to the entertainment industry. Based in Burbank, California, the company is a recognized leader in three integrated areas: qualifying Film/TV content, technologies, and related hardware products, optimizing digital delivery of content through its proprietary software, and global distribution initiatives that enable content rights holders to reach new audiences and generate additional revenue streams.
BDG's licensing and distribution division works with channel brands to leverage their existing marketing and promotional opportunities. Its distribution and operational support help create powerful linear experiences that allow its partner channels to focus on their core competency of developing and acquiring content and handling their regular distribution businesses.
For more information about Blu Digital Group, visit http://www.bludigitalgroup.com