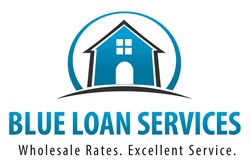 San Diego, CA (PRWEB) November 24, 2013
Blue Loan Services is a full service mortgage company that has been helping California residents to find the best home loans for many years. The company, headed by father and son team Robert and Brandon Blue, is dedicated to providing the lowest mortgage interest rates and closing costs, as well as some of the fastest, most hassle free, and easy to understand loan processes available. With their connections to top California lenders and the best real estate agents around, Blue Loan Services ensures that their clients get the very best loan deals which will enable them to save money and finance their homes affordably. The mortgage company also strives to keep their clients informed of any current news regarding the mortgage and real estate industry which would affect their clients' home loan decisions. Now, with California mortgage rates stabilizing after the increases of the past few weeks, Blue Loan Services gives their take on the matter and provides some tips for those who are currently seeking new home purchase or refinance loans.
As a November 22nd report from Mortgage News Daily explains: "Mortgage rates were steady to slightly lower today, though they remain elevated on the week (read more...). Most lenders are effectively unchanged compared to yesterday's latest rate sheets, but some are offering moderately lower closing costs for the same interest rates. The most prevalently quoted conforming 30yr fixed rate for ideal scenarios (best-execution) remains at 4.375%, with some lenders closer to 4.5%. It was a quiet day for financial markets, offering little motivation to the Mortgage-Backed-Securities (MBS) that most directly affect mortgage rates. Most of the week's volatility was seen on Wednesday, heading into and out of the FOMC Minutes (more...). Yesterday and today have played the role of the epilogue, offering some consolidation and closure to the main storyline that played out on Wednesday."
Blue Loan Services explains that the recovery is definitely good news for those who have been searching for a lower mortgage rate, but warns that borrowers should use caution if they plan to wait to see if the downward trend will continue. There are still a number of important economic reports coming up which could drastically change mortgage rates and cause them to move up or down depending on what the data shows. Those who are serious about getting financing for a home (as opposed to those who are casually shopping around for a good opportunity) would be wise to lock in their loan rate as soon as rates fall into a reasonable range for their financial goals.
Blue Loan Services can help those who do decide to apply for a home loan at this time to not only find the lowest rates and closing costs, but to find the right lender and even the right Realtor if they are still looking for the right house. The company's reputation for fast, professional and courteous service will ensure that the client who is looking for a loan has the best loan experience and ends up with a loan that will save them money in the long run.
For more information on how Blue Loan Services can help California home loan borrowers get approved for their home purchase loan or refinance quickly, please visit BlueLoanServices.com or call 1-888-929-BLUE (2583) to speak with an experienced mortgage professional.
CA Dept of Real Estate -- Licensed Broker #01094374 NMLS #938365