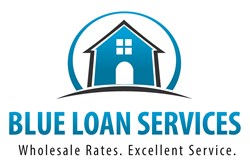 San Diego, CA (PRWEB) November 11, 2013
Blue Loan Services is a full service mortgage company that has been helping residents of California to find the best loan products and home loan rates for many years. The company, headed by the father and son team Robert and Brandon Blue, has been dedicated to serving its customers with honesty, integrity and competence. The Blue Loan Services team of mortgage professionals operates with the goal to provide home loans to its clients while providing them with the lowest wholesale interest rates and closing costs possible. The company also comments on current mortgage news to help keep their clients up to date on any major changes in the real estate industry. Now, as the mortgage industry awaits the results of the upcoming jobs report, Blue Loan Services reports on the fact that home loan rates in California have been virtually unchanged so far.
As a recent report from Mortgage News Daily, posted on November 7th, explains: "Mortgage rates were flat to marginally lower today. The mortgage-backed-securities (MBS) that most directly inform lenders' rate sheets were surprisingly unperturbed by the morning's GDP data and other considerations, suggesting any chance of more sincere movement is being reserved for tomorrow's Employment Situation Report. The most prevalently quoted conforming 30yr fixed rate for ideal scenarios (best-execution) remains at 4.25%. At the moment, we're seeing some positive and negative momentum finding relative balance in bond markets (of which MBS are a part). This was the case as early as late September, when rates were coming down from their highest levels in more than 2 years. They'd settled in to an exceptionally narrow range to wait out the government shutdown and were largely successful. The delayed jobs report released on October 22nd helped set up just over a week of the lowest rates in months. But last week's data and events pushed rates back into that narrow, sideways range seen heading into the shutdown."
Blue Loan Services warns that these steady rates could very likely rise if the above mentions employment report shows better than expected economic data. This means that those who have been waiting to apply for a home purchase or refinance loan would be safer doing so as soon as possible rather than waiting to see how things will pan out. With mortgage rates the risk is always that they will get higher the longer one waits, so while there is a slim chance rates could get better (lower) it could be in the borrower's best interest to lock in current rates which are still comparatively low given the rates that had been available just a few short months ago.
The California mortgage company can help those who wish to lock in the current rates to find the right home loan and work quickly to get approved so that they can avoid higher rates down the line. Their fast online loan application and documentation portal makes it simple for clients to submit their application and keep track of their loan's progress. With a reputation for fast, reliable and courteous service, the company's team of mortgage professionals can be especially useful during this time of rapidly changing mortgage rates.
For more information on how Blue Loan Services can help California home loan borrowers get approved for their home purchase loan or refinance quickly, please visit BlueLoanServices.com or call 1-888-929-BLUE (2583) to speak with an experienced mortgage professional.
CA Dept of Real Estate -- Licensed Broker #01094374 NMLS #938365